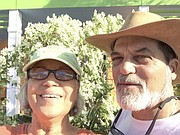 By Diane Phillips
Two business partners have promised they are "not giving up on Abaco" after their company was one of the few left standing by Hurricane Dorian.
Daphne de Gregory and her husband, Nick Miaoulis, both spent five hours holding their own against the category five storm by using their bodies like concrete blocks to keep dormer doors closed at their business, Abaco Neem.
A sheet of glass was all that stood between them and Dorian's howling 220 mile per hour winds. Together, they prayed, minute after minute, hour after hour. When one was nearly worn out and on the verge of collapse, the other prayed louder, offering up encouragement until the wind finally subsided.
"Daphne is my hero," said Mr Miaoulis. "She was so strong." The couple had survived the storm atop the second floor of their Marsh Harbour business, and yesterday conceded they were among the luckiest. Theirs is one of the few businesses left standing.
"We're not giving up on Abaco," they said. Mr Miaoulis added: "We lost 40 percent of our farm, but we had over 10,000 trees and I can always plant more trees. I'm a farmer. I've been planting trees for 27 years." Some of their equipment was damaged, and the cover over that equipment ripped to shreds.
The Abaco Neem founders were in Nassau on business yesterday, meeting with their insurers and those who sell their products, before sharing their story with a Toastmasters group. The couple said they will never fully understand why they were spared.
"Why God let our building stand, why God let us survive, we will never know," they said. "We just trust that good follows good."