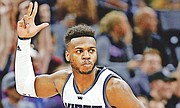 By RENALDO DORSETT
Tribune Sports Reporter
rdorsett@tribunemedia.net
CHAVANO "Buddy" Hield and the Sacramento Kings will begin their preseason making NBA history, participating in the league's first game ever in India.
The Kings will face the Indiana Pacers in a pair of games October 4-5 at the NCSI, SVP Stadium in Mumbai, India.
The matchups will be played in front of 3,000 boys and girls from more than 70 schools under the Reliance Foundation Jr NBA programme.
Reliance Foundation is a non-profit organisation that supports various philanthropic initiatives of Reliance Industries Limited (RIL) and has partnered with the NBA on the Reliance Foundation Jr NBA programme in India since 2013.
As part of Reliance Foundation's Education and Sports for All (ESA) initiative, the NBA will invite 3,000 boys and girls from more than 70 participating Reliance Foundation Jr NBA schools in Mumbai to attend "The NBA India Games for Reliance Foundation ESA" on October 4.
In addition to the games, the league and its partners will host interactive fan activities, Jr NBA events, an NBA Academy India development camp for women, and NBA Cares community outreach efforts benefitting fans of all ages across Mumbai.
To date, Hield has raised over $300,000 in conjunction with the Kings in support of the Hurricane Dorian relief effort. His focus on fundraising efforts and community outreach comes at a pivotal time in his professional career in the midst of contract negotiations with the Kings.
Hield is set to enter the final year of his rookie contract (four-year, $15.9-million) and is eligible for a rookie scale contract extension (up to $158.1 million over five years) within the next six weeks. The deadline for both sides to reach an agreement on the extension is October 21.
The 2019-20 season tips off on October 22. Should they fail to agree on the extension, Hield could become a restricted free agent next summer if the Kings extend the $6.48 million offer.
According to Jason Anderson of the Sacramento Bee, Kings general manager Vlade Divac said both sides are currently working on the deal.
"We are … every day is working and Buddy's a big part of this team, and we'll figure something out down the road," Divac said. "We're working on it and we'll figure out something. Buddy is (a) very important piece to this franchise."
In his third season, Hield averaged 20.7 points on 46 per cent from the floor, 43 per cent shooting from three-point range and 88 per cent shooting from the free throw line. He also averaged 5.1 rebounds and 2.5 assists in just over 32 minutes per game.
Hield has now made more three-point field goals than any other player in NBA history through their first three seasons in the league with 602.
His season total of 278 three-pointers ranks No.7 all-time for a single season and moved him ahead of Klay Thompson of the Golden State Warriors with 276 in 2016.
Hield also set the Kings' single-season three-point field goals record this season when he surpassed Peja Stojakovic's mark of 240.
During his season of milestones, Hield also made his debut in the MTN Dew Three-Point Shootout at NBA All-Star Weekend.