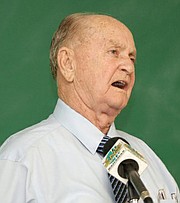 By NEIL HARTNELL
Tribune Business Editor
nhartnell@tribunemedia.net
Super Value's principal yesterday said inadequate warning of the weekend lockdown caused late Friday "chaos" at food stores with police officers even threatening to shoot unless persons went home.
Rupert Roberts told Tribune Business that the three hours' notice given by the Prime Minister's 5pm address sparked a rush to his chain's supermarkets, with many customers unable to obtain essential items - and staff racing to ensure perishable goods did not go bad - before the 8pm lockdown deadline took effect.
Arguing that Bahamians and residents should have been given more warning of the Government's intentions than three hours to prevent further panic-buying, Mr Roberts also questioned its newly-published food shopping schedule.
He said it should be implemented in mid-week, pointing out that persons whose names begin in 'P' through to 'Z' will have to wait until Tuesday to restock following the weekend lockdown - something he described as a long time, especially for those who failed to reach food stores before they closed on Friday.
Mr Roberts, who also suggested that the lockdown was not aligned with the typical Friday night pay received by weekly workers (those still employed), added that the absence of Saturday and Sunday in the Government's shopping schedule indicated it planned to repeat this weekend's total lockdown over Easter and subsequent weekends until it was satisfied COVID-19 is vanquished from The Bahamas.
He disclosed that Super Value will today begin installing plexiglass screens at all its stores, and providing cashiers with plastic masks, to protect them from COVID-19 by creating a barrier separating them from consumers.
"I'd like to say something about the short notice," the Super Value chief said of Dr Hubert Minnis's late Friday afternoon announcement. "We got three hours to close down. I knew for two days that Barbados was going to close down at 5pm, and I thought they had 24, 36 hours' notice. Three hours was very short for us.
"The word was out because they [customers] started to rush us at 4pm. Between 5pm to 6pm the police came around, and at some stores they threatened to shoot them [customers] if they did not get off the line and go home.
"We should collect the guns off these junior officers because they cannot go around threatening customers. Some people had not been paid, some people needed milk for their baby as they had no water at home. It was chaos at some stores," Mr Roberts continued.
"ZNS reported it was chaos at Top-of-the-Hill Mackey Street, but that was the only store that went well. The inspector from Wulff Road was in there shopping, and he took charge from the junior officers, and took it over and ran it. It really went perfectly. He has to be commended. I wish we could have had an inspector at every store so that it closed down properly.
"That three hours didn't give us a chance to serve the public, and then we had to secure our perishables. Something like milk keeps better in the cooler at 33 degrees. In the case you get fluctuations from 33 to 38 degrees, and milk with a three-week shelf life goes to two weeks. We had to rush the soft perishables back into the coolers and freezers."
Mr Roberts revealed that Super Value's staff faced a similar race against time with its fruit and vegetable produce, reiterating that "not enough notice" was provided to all food retailers. And he questioned how persons not due to shop today, as per the Government's schedule, will fare without food and drink supplies - especially those who were caught out by Friday's lockdown.
"That's a big stretch to go without water and milk for the baby," the Super Value chief added of Bahamians and residents not scheduled to shop until Tuesday. While those whose surname first letters range from 'A' to 'O' will be allowed into stores today, those with first letters from 'P' to 'Z' - including the elderly and disabled who fall into this category - will have to wait until tomorrow.
"We should point that out to the Government," Mr Roberts continued. "Unless they gave urgent medical reasons they shouldn't start this on Monday [today]. Starting it on Wednesday would be my suggestion. Unless they have medical reasons they should go ahead and tweak it.
"I think the senior citizens and disabled should be able to shop at any time. To only be able to shop between 6am and 12pm on Tuesday, and whenever the first letter of their surname comes up, that's too rigid. That's only my opinion."
Mr Roberts said he had also written to the Government about the health hazards posed by customers bringing unwashed reusable shopping bags into stores, pointing out that these potentially carried e-coli and salmonella bacteria from chicken and meat blood that may have leaked out.
"They're not washing the bags, and when I mentioned this to Dr Duane Sands he said: 'Yikes'. I said to him to see what he can do. They're going to have struggles suggesting to the public to wash those," he added.