By RENALDO DORSETT
Tribune Sports Reporter
rdorsett@tribunemedia.net
The Sacramento Kings finally got into the win column while the Phoenix Suns became the only 4-0 team in the NBA restart at the ESPN Wide World of Sports Complex in Orlando, Florida.
The Suns continue streaking and Deandre Ayton continues to deliver dominant performances.
Ayton finished with another double double - 23 points, 10 rebounds, four blocked shots and two steals in the Suns' 114-99 win over the Indiana Pacers.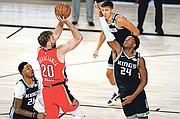 Chavano "Buddy" Hield played sparingly in the Kings' 140-125 win over the New Orleans Pelicans in yesterday's first matchup on the schedule.
He scored just three points on 1-5 shooting in a season low 11 minutes.
It was just the second time he played less than 20 minutes in a game after his previous low of 15 minutes in a February loss to the Los Angeles Clippers.
Hield has averaged just 9.5 points on 28.5 per cent shooting from the field and 25.4 per cent shooting from three-point range.
The Kings continue play against the Brooklyn Nets (August 7), Houston Rockets (August 9), Pelicans (August 11), and Los Angeles Lakers (August 13).
"It hasn't looked great at times, but we haven't looked great at times," Kings head coach Luke Walton said of Hield's play during the latest episode of the "Purple Talk" podcast.
"We also need him to continue to focus on playing defence, do coverages," Walton continued.
"He gets blitzed, so we need him to continue to work on his playmaking ability and being able to pass out of those blitzes, which he's gotten much better at."
Kings play Nets today.