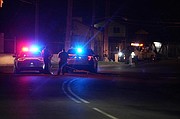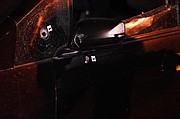 A high-speed chase ended with one suspect in hospital last night after being shot by police.
The shooting happened after officers of a COVID-19 enforcement unit came across two vehicles at the junction of Carmichael and Gladstone Roads firing gunshots at each other.
One of the vehicles opened fire on the COVID unit and sped off which led to a high speed chase involving a number of other police vehicles.
Assistant Superintendent of Police Audley Peters at the scene last night said: "Shortly before 9pm officers from the COVID-19 enforcement unit while on routine patrols in the area of Gladstone and Carmichael Roads, observed two vehicles discharging gunshots towards each other.
"The occupant of one of the vehicles then discharged a firearm at the officers. A chase ensued and while this chase continued police control was informed and other units were alerted.
"The vehicle evaded the enforcement officers."
Minutes later, however, another police vehicle intercepted a car matching the description In the St Vincent Road area. The fleeing vehicle again opened fire before crashing into a signpost.
Pursuing officers approached the scene as the driver emerged armed with a gun at which police opened fire.
ASP Peters said: "While the suspect was attempting to exit the vehicle, he brandished a firearm and officers, being in fear for their lives, discharged their weapons at the suspect, hitting him.
"EMS was called in. The suspect was transported to the hospital where he is listed in stable condition at this time."
He added: "There were no injuries to the officers. However, one of our vehicles was damaged by gunfire."
The injured suspect was taken to Princess Margaret Hospital where his condition is stable.