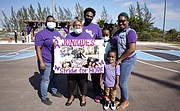 By BRENT STUBBS
Senior Sports Reporter
bstubbs@tribunemedia.net
AFTER almost a year since she passed away, coach Terrance 'Red Eye' McSweeney finally completed a memorial for his former Diamond Basketball development programme player Jonique 'Mini' Webb.
On Saturday, McSweeney ended the five-weekend training camp in honour of Webb, who died on January 19 at the age of 30 after she lost her battle with lupus.
Webb, 30, was a part of the organisation from 1998 to 2006 after graduating from Jordan Prince Williams High School where she was a multiple sporting star of their Falcons ladies' teams.
"Today was more than what I anticipated. We had more than a handful of the girls who were coming out in the past," McSweeney said.
"We had six Saturdays honouring Jonique and we had her sorority, AKA, out and they came out and shared a lot of knowledge with the young girls here."
McSweeney said it was just a testament to Webb's involvement as a person and her contribution to sports with the BSC also being involved in the activities.
"Jonique was a lot of fun wherever she went and she always lit up a room with her enthusiasm," McSweeney said. "Through God, we had a wonderful, sunny day with her parents, grandmother, sister and brother.
"It was more of a family affair and that is why you always have to rely on God in whatever you do. Today marked 11 months since Jonique went on to be with the Lord. So to God be the glory for what he has done."
Ida Poitier and a host of her members from the 112-year-old Alpha Kappa Sorority Inc., an organisation that Jonique Webb was involved in, showed up and provided some tips to the participants of the camp.
"I love what Terrance McSweeney is doing with the programme," Poitier said. "Because of COVID- 19, we were unable to do what we really wanted to do. "But as soon as it's over, we will jump in and assist him with this programme because we believed in Jonique Webb and the success and contribution that she had in sports."
AKA presented a plaque on behalf of Webb to Jasmine Roker for her outstanding performance as a participant and team leader in the camp.
Many people were of the view that Roker resembled Webb in all aspects, although the St John's College 12th grader admitted that she never met her, but heard about her accomplishment.
"It was a surprise, but I feel honoured and I want to thank the people who selected me for this award," Roker said. "I am going to use this as an encouragement to keep moving forward. I just hope this will inspire me to improve my game."
Roker, who is preparing to head to St Leo University next year on a basketball scholarship, said while she didn't know or meet Webb, she's pleased that the camp was held in her memory because of her story. "I understood that she was a dedicated and helpful person, so to be a part of this is awesome. It's a good experience," said the 16-year-old Roker, who plays on St John's senior girls' basketball team.
Also on hand was the Baptist Sports Council, an organisation that Webb served as a secretary and a player with the Golden Gates Native Baptist Church.
Chairman Brent Stubbs, along with vice chairman Joanne 'Mother' Webb and treasurer Olympian Evans, made some comments, reflecting on the life of Webb.
The BSC also presented Maquel Hall, a 9th grader at St John's College, with the Sportsmanship Award.
The talented point guard on the junior girls' team said she was really stunned when her name was called.
"I was surprised when my name was called. I expected it to be either Jasmine or Raven or someone else," she said. "I didn't know Jonique, but I heard about her story. "She was a great person, so I am very glad that I got the award in her honour. I came here to better my skills in basketball and I've been able to develop my skills."
McSweeney said Ida Poitier, the president of the local chapter of the sorority, now celebrating its 112th anniversary, will be in attendance along with other sisters as they honour the life and memory of Webb on the basketball court.
Shane Sweeting, a former physical education teacher and coach of the St Anne's Blue Waves teams that played against Jordan Prince Williams teams, coached by McSweeney and featuring Webb, said she couldn't miss this opportunity to participate in the event as well. "I didn't just know about Red Eye. In the 1980s, we went to Bethune Cookman College, now university, and he lived with my little brother, so we were considered brothers," Sweeting said. "So I saw the type of qualities that Red Eye had when he came home and he got into coaching, especially coaching girls. "Girls are very emotionally, very soft and you have to deal with them with a kit glove."
Deaconess Webb, who also serves as Jonique's grandmother, said their family appreciates all that was done by McSweeney and Diamond Basketball, Poitier and the AKA and Stubbs and the BSC. "We know that it's all for the betterment of other female basketball players or athletes, who want to follow in the fashion of Jonique," said Webb, a former versatile athlete herself.
"In being humble, you are lifted up, so we give God thanks for all of the things that have transpired and things that will come as we look toward the betterment of this country and sports in particular."
McSweeney said he will continue to keep the memory of Webb alive by hosting an event every year.
Both AKA and the BSC have both pledged their support to assist the Diamond Basketball development programme in the future.