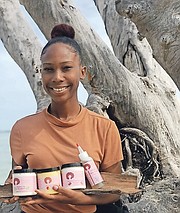 By ALESHA CADET
Tribune Features Reporter
acadet@tribunemedia.net
There are two positive trends that Morgan Pearson follows when it comes to both her personal and professional life: the organic movement and the increased embracing of natural hair within the black community.
The latter is stronger than ever: "Hair Love", the story of a man who must do his daughter's hair for the first time, is a front-runner for the Best Animated Short Oscar, and thanks to the short film, a Texan student who was discriminated against at this school due his dreadlocks, has been invited to the Oscars.
Meanwhile, when it comes to going organic, more and more people are realising just how potentially harmful everyday products are and are seeking all-natural alternatives, especially when it comes to skin and hair care.
Speaking about her own natural hair journey, which started in her childhood, Morgan said she always struggled to find products that worked for her hair or products that contained healthy ingredients. She found that many of the hair products contained stripping agents and listed ingredients she could not even pronounce.
"I was alarmed about the harmful ingredients that may be going into my hair, so I began studying trichology, which is the study of the hair and scalp, and became a cosmetology student. I also started making hair products for myself. I felt more comfortable about my hair being healthy because of my natural products," she told Tribune Woman.
People became curious about her hair routine and the products she used to maintain her texture. Morgan saw a business opportunity in this and decided to start her very own hair and skincare line.
A play on her name and the word "organic", her Morganics brand aims to offer high-quality natural products that contribute to healthy hair and skin.
"I had helped myself and now wanted to help others...Our ingredients are rich in hair boosting nutrients and vitamins. Our natural oils and butters promote hair growth and length retention," she said.
A favourite product from her line, she said, is the Morganics' Rhassoul Clay Masque – a weekly deep-conditioning treatment for brittle or dry hair. This product, she said, is packed with ingredients to soften and strengthen hair. Another favourite are the Morganics Handmade Whipped Hibiscus Mango Butters, which she said are rich in Vitamins A, C, D and E, and are used as sealants to ensure that moisture stays in the hair and skin, therefore reducing hair breakage and ensuring rejuvenated skin.
"Since launching back in December 2018. I have fine-tuned my products and introduced more hair-friendly products. I've learned different ways to make these accessible to customers such as delivery all over New Providence and now to the second city. At Morganics we have found online marketing using WhatsApp, Instagram and Facebook is invaluable. Most of all, I've learned that if you follow a dream, you will be assisted in achieving it," said Morgan.
For her, the ultimate goal is to help more people understand how to take better care of their hair using natural products.
"We offer natural products not only for hair growth but to retain length. This should lead to strong, long, healthy hair. Many hair brands contain harsh ingredients like sulphates or silicones. Our products don't contain such chemicals. This benefits not only your hair and skin. but also the environment as these harsh ingredients won't harm it by being rinsed down the drain when washing or styling your hair. Those harsh ingredients can also irritate your scalp and this doesn't produce a healthy environment for hair growth," said Morgan.
She hopes Morganics will soon be available in stores throughout the islands.
"Bahamians are happy to have an alternative, all-natural product and one that is handmade locally and is affordable. Along with (promoting) a healthy Bahamian community physically, we also assist in a healthier mindset. Self-esteem is so important. We educate consumers on better practices to help their hair and skin, as well as showcase our hair as something beautiful not to be looked down upon. We teach young girls and boys how to style their hair with hopes of a brighter, positive outlook on their beauty in the future," she said.