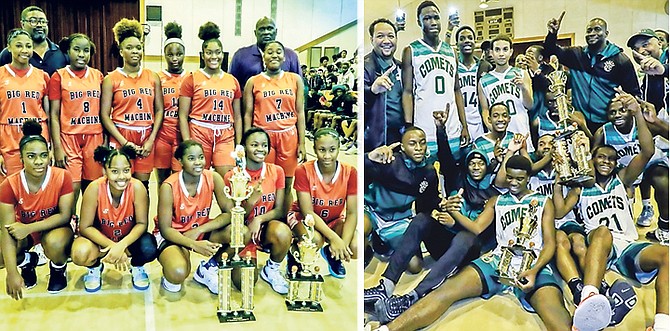 By RENALDO DORSETT
Tribune Sports Reporter
rdorsett@tribunemedia.net
Both titles in the BAISS Senior divisions were decided by two-game sweeps as the SAC Big Red Machine won the Senior Girls while the Queen's College Comets won Senior Boys at Loyola Hall last night.
In a rematch of the 2019 championship series, the Big Red Machine Senior Girls turned the tables on the St John's College Giants and continued their dominant season when they closed out the best-of-three series with a 39-31 win.
The Comets Senior Boys concluded the game on an 11-2 run to clinch the title with a 55-46 win over the Big Red Machine.
In Senior Girls play, Karolyn Baptiste and Kendi Outten led a balanced Big Red Machine scoring attack with nine points apiece while Rachael Rolle and Jade Brown each scored eight.
Tyanna Gordon led the Giants with a game high 12 points and Laurel Rolle scored seven.
The Giants held an early 8-6 lead at the end of the first quarter, but SAC went on a 13-0 run to take control. Baptiste scored on a fastbreak layup to take a 19-8 lead. They outscored the Giants 14-5 in the second to take a 20-13 lead into the half and maintained a 31-22 lead headed into the fourth quarter.
Big Red Machine head coach Reggie Forbes said this title was the culmination of a process that began years ago when his seniors were just 10th graders.
"This team has been together three years, this is three years in the making. A lot of work, a lot of weekends and holidays were sacrificed and these girls deserve it. I'm proud of them, I ask a whole lot of them and they gave me their best," he said.
"We didn't start the game well, we didn't stick to our basics and we allowed the game to get away from us, but we just had to settle down. For the most part this is an experienced team but for some of them this was their first time playing in this environment at this level and I'm very proud that they could close it out, they gave a tremendous effort."
The Big Red Machine had an opportunity to win three titles Wednesday night, but both the Junior Boys and Junior Girls lost game two and will play game threes to decide their respective titles.
"We have high expectations for all of our programmes and of course we want them to do well," Forbes said. "I don't think it was any added pressure, for these girls it was just a matter of staying focused, playing their game and executing. They did just that."
The Big Red Machine dominated the BAISS regular season and also captured the Providence Holiday Classic championship with a 39-45 head-to-head win over the top team in the GSSSA, the CI Gibson Rattlers.
In the the Senior Boys finale, Dre Hudson led the Comets with 22 points, Keithwood Stubbs scored 11 and Nathen Allen scored all seven of his points in the fourth quarter.
Brian Lockhart led the Big Red Machine with 16 points, Cameron Toote scored eight and Chima Johnson also scored eight.
The Big Red Machine trailed by seven late in the fourth, but rallied to tie the game at 44 on a pair of free throws from Toote.
Allen responded with a jumper on the next possession to start the final Comets rally.
Comets head coach Rueben Monks Jr said his team was determined to come back and win the title after finishing as runners-up to the Giants last year.
"We've been working from last year when we made the championship and we didn't finish the job, we've worked from then so it feels good to finish the season like this. So many long days and nights went into this. A shoutout goes to coach [Dwayne] Smith who put this team together. We have been working with them from the summer to now and it's a great feeling right now," he said.
"They will enjoy this, they worked hard for it, hats off to SAC, they played well, they punched us in the mouth, but our boys stayed focused and came out with the win. They are a good team, they have a good coach, a good scheme, so any time we play them it is going to be tough, we just wanted to weather the storm and do what we had to do to come out victorious."