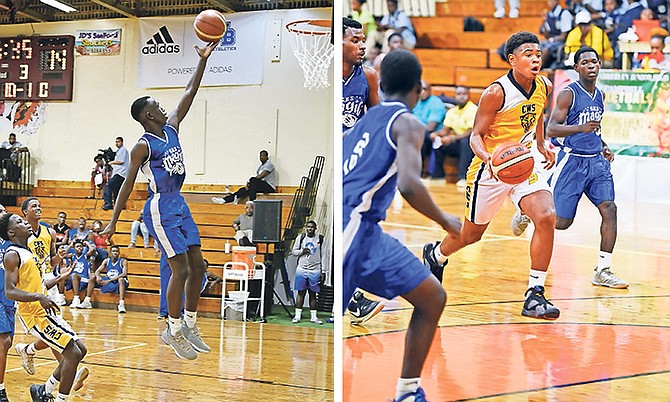 By BRENT STUBBS
Senior Sports Reporter
bstubbs@tribunemedia.net
Still celebrating their Bahamas Association of Independent Secondary Schools Sports' senior boys basketball championship victory, the Queen's College Comets got off to a sluggish start, but poured it on down the stretch against Galilee College in one of four games played on day one of the prestigious Hugh Campbell Basketball Classic.
On the polished floor of the mecca AF Adderley Gymnasium on Monday night, the Comets doubled up Galilee College 44-22, while the Government High Magic routed the Charles W Saunders Cougars 74-30, Mt Carmel Cavaliers stunned the Kingsway Academy Saints 54-44 and the Anatol Rodgers Timberwolves took down the RM Bailey Pacers 51-21.
Queen's College 44,
Galilee College 22
Off to a slow start as they could only muster a slim 6-3 advantage at the end of the first quarter, the Comets went on an offensive tear in the second quarter to surge ahead 26-6 at the half.
In the second quarter, Kendrick Sands got hot, hitting two consecutive three-pointers to push their lead to 14-6 and down the stretch, Donte Saunders came up with a lay-up and a three-pointer to extend their lead to 21-6 while Eric Nelson added two straight lay-ups for a 25-6 margin.
The second half was a different story as Queen' College went on cruise control, extending their lead to 38-13 at the end of the third and were never in any real trouble the rest of the way as they set the stage for what is to come for the rest of the week-long tournament.
"I was just trying to get them back into the flow of things," said Comets' head coach Ruben Mounts Jr. "There's a lot of stuff we are rusty on, shooting especially and mossing some defensive assignments. The celebrations is still on us."
Mounts Jr said as the tournament progresses, they are hoping to win as many games and, if possible, continue their winning streak so that they can double the pleasure with their team celebrations that has been put on hold until after the tournament. The Comets didn't have any players in double figures, but Saunders finished with nine points, Sands and Nathan Allen both had eight, Wanya McCoy six, Nelson five and Dre Hudson four.
In a losing effort, Frederick Moxey had a game high 10 points. Quintin Rutherford added five and Anthony Rolle chipped in with four. Anfernee Rolle only had three, but he played a key role on the defensive end to keep Galilee College in the game.
Magics 74, Cougars 30: Charles W. Saunders didn't have any answer for Dimargio Taylor, who erupted for the first 12 points as Government High raced out to a 19-4 first quarter lead. By the half, the Magics had built a comfortable 42-14 lead.
As the Cougars tried to work their way back into the game, the Magics found a way to thwarted their efforts as they pushed their lead to 56-24 at the end of the third and it was just a matter of what the final score would be in the fourth.
Taylor ended up pouring in a game high 32 points. Alexander Altime was the only other player in double figures with 10. Samuel Gibson helped out with nine; Deontae Darville had six and Jordan Gibson, Christian Arthur and Ashton Newbold all contributed five.
"I really hoped that we would have done this all season," said GHS head coach Theodore Hanna after their disappointment in the Government Secondary Schools Sports Association (GSSSA where they had hoped to be a contender for the title).
"But we had a lot of slippery hands, jittery minds, but we really wanted to come out here, having put our frustrations of the GSSSA season behind us and just focus on getting ready for the next game. I expect for us to now play at a level where we know that we belong here and we play that way. "
In a losing effort, Jordan Saunders had eight for the Cougars. Julian Thompson had six and Lamont McPhee added five. Anfernee Rolle only had three, but he played a key role on the defensive end to keep Charles W. Saunders in the game.
Cavaliers 64, Saints 44: Having produced one of the best records in the Small Schools Association with an 11-1 mark, Mt Carmel's head coach Jeffery Henfield said it was no surprise that they came into the tournament and played as they did in their opener.
The Cavaliers led from start to finish as they produced a 13-10 margin at the end of the first quarter, held onto a 25-23 advantage at the half, opened a 40-28 lead at the end of the third nd maintained at least a 10-point surge as they coasted to victory in the fourth.
Shemer Easy led their attack with a game high 21 points, while Deonne 'Taco' Lockhart, who acted as an intimidator in the middle with a few blocks, added 13. Dustin Storr had seven, Nathan Blackman had six and Jayden Johnson added five.
"The first half we were playing too lackadaisical and too soft," coach Henfield said. "I told them we had to play harder and once e play harder, we can win easily."
Mt Carmel was led by Jehroh McIntosh with 10 points; Ogden Aranah had nine; Shabazz Hinds eight and Theon Missick, Sydney Wilson and Dacoda Johnson all had five.
Timberwolves 51, Pacers 21: Nicholas Jones almost out-scored RM Bailey by himself with a game high 18 points to lead Anatol Rodgers in their rout in the feature game as coach Harcourt McCoy got off to a great start.
George Schurton and Kevin Thompson both had eight, while Davito McIntosh chipped in with seven.
For RM Bailey, Devaughn Fleurme and Marcus Daxon both had six and Ashad Sands added four.
The tournament will continue today and run through Monday night when the championship game will be played at the AF Adderley Gym instead of the Kendal Isaacs Gymnasium, which is still being used to house the evacuees from Abaco and Grand Bahama from Hurrican Dorian from last year.
TONIGHT
5pm - St John's vs Akephran International
6pm - Jordan Prince Williams vs Temple Christian Academy
7pm - CI Gibson vs Mt Carmel
8pm - Doris Johnson vs Anatol Rodgers