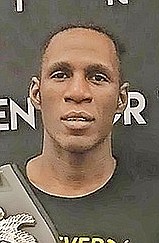 By BRENT STUBBS
Senior Sports Reporter
bstubbs@tribunemedia.net
LOOKING back at his performance in 2019, boxer Carl Hield feels he's better prepared to contend for a spot on the Bahamas team that will be heading to the Olympic Games in Tokyo, Japan.
"First of all, I want to give God thanks for winning two gold in the Sugar Bert International that has me ranked number two in the United States," Hield said.
"I was preparing to go to the World Championships, but unfortunately, we didn't get to go there because we got the invitation too late."
Hield, however, said Bahamas Amateur Boxing Association president Vincent Strachan was able to get him to three of the four tournaments held last year, so he was appreciative of that.
As he looks ahead to 2020, the country's top amateur boxer said he's going all out to ensure that he gets to qualify for the Olympics.
"We have to go to Argentina in March to compete in the first qualifiers," Hield said. "I will be fighting on February 8 in Pennsylvania, so that should help prepare me for the qualifier in our region."
Spending time training between the United States and Cuba, Hield said he's gaining from the best of both worlds, which should enable him to perform at a higher level when he goes to the qualifier.
"I'm looking to end my amateur career in 2022 because some people believe that I will just go after the Olympics," Heild said. "But I want to go to the Olympics and try and win a gold medal first.
"Then I want to stay around for the next World Championships and the Commonwealth Games. I will also be doing my coaching courses, so after I'm done boxing, I will go into coaching, trying to prepare some boxers to compete in the 2024 and 2028 Olympics, scheduled for July 24 to August 9. Four continental events and a final world qualification event will be held between February and May, 2020 to give boxers the opportunity to seal their places at the Tokyo 2020 Olympic boxing tournament.
Hield and any other boxer from the Bahamas will have to qualify at the Americas' qualification at the CeNARD High-performance Athletics Training Centre in Buenos Aires, Argentina, from March 26 to April 3.
Failing that, the only other opportunity will come from the World qualifying event that will take place in Paris, France, from May 13-24 at a venue yet to be announced.
While the total number of athletes (286) has been maintained from the Rio 2016 Olympics, the number of female boxers has been tripled for Tokyo 2020 in a major boost toward gender equality and in keeping with the enhanced quality and popularity of female boxing.
The Tokyo tournament will feature 186 men and 100 women (compared to 250 men and 36 women in Rio).
Hield, the most seasoned Bahamian amateur boxer at age 33, has won medals at both the Commonwealth Games and Central American and Caribbean Games, but he has failed to get on the podium at the World Championships or Olympic Games.
He has opted not to turn professional because he said his style of fighting is best suited for that of an amateur.