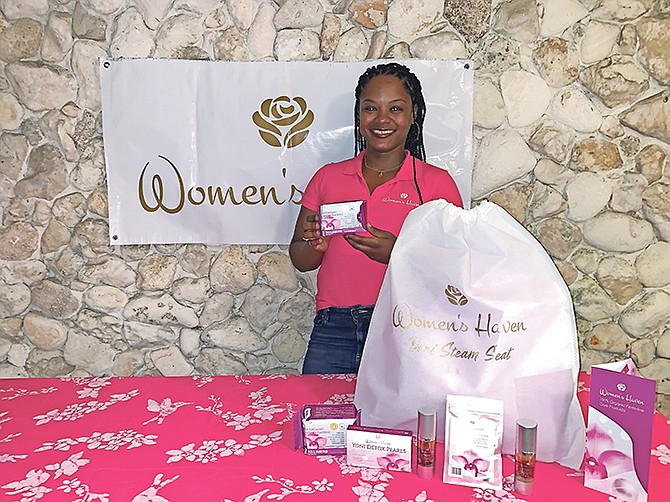 By ALESHA CADET
Tribune Features Reporter
acadet@tribunemedia.net
THE Women's Haven has always been adamant about taking the organic approach to "yoni" wellness, a Sanskrit word that has been interpreted to literally mean the womb and the female reproductive organs.
Now, the company is moving ahead with the use of a revolutionary new material which has gained worldwide attention to make its feminine hygiene products.
The local company seeks to make a woman's most uncomfortable, and often painful, time of the month as pleasant as possible. To accomplish this, Women's Haven offers natural and organic alternatives to traditional products. Up until this point, this has meant the company operated as distributors of international brands which make sanitary pads, tampons, menstrual cups, detox pearls, period-proof underwear, and vaginal steams.
This year, owner Meredith Johnson said she is proud to share that Women's Haven is now producing its very own product line of feminine hygiene items that include pantyliners and pads, tampons, menstrual cups, yoni oil, steams, and an organic feminine wash.
She is especially proud to announce that Women's Haven sanitary liners and pads will feature the revolutionary new material called graphene. Made of a single layer of carbon atoms, graphene has a special set of properties which set it apart from other types of carbon. In proportion to its thickness, it is about 100 times stronger than the strongest steel.
Andre Geim and Konstantin Novoselov, two Russian scientists working at the University of Manchester, won the Nobel Prize for their groundbreaking experiments on graphene.
Graphene allows the free flow of electrons which increases circulatory health, metabolic health and assists to inhibit the growth of harmful bacteria, which makes its perfect for use in items like sanitary pads.
"We are beyond ecstatic to feature this in the Women's Haven pads as other international players such as Bill Gates have taken a invested interest in graphene," said Meredith.
She is also excited by the company's expansion in the region.
"We have also expanded our reach from four countries in February of 2019 to 11 countries, namely the Bahamas, Barbados, Bermuda, the Cayman Islands, Dominica, Guyana, Jamaica, St Lucia, Trinidad and Tobago, Turks and Caicos, and St Vincent and the Grenadine's," she said.
Meredith's inspiration for the business came from her own issues with her menstrual cycle; from her suffering cramping, irritation and clotting. She told herself this could not be her only option as a woman, to endure pain like this on a monthly basis.
As every woman's body is different, she said the results experienced by using the new Women's Haven products can vary. However, she said overall they are designed to give women more comfortable periods.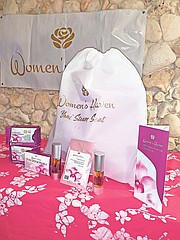 The yoni oil and graphene pads, she said, reduce odour development. The oil, she claims, can also increase sexual pleasure during intercourse and soothes irritation. The steam rejuvenates and relaxes the vaginal walls, regulating periods.
"Once women saw the results for themselves...we saw positive reviews pouring in. Bahamian women have been suffering and were looking for alternatives, and with Women's Haven women now have access to these beneficial products. The overall goal is education and providing an alternative," she said.


"We want to be able to reach young women and explain to them their period is precious. We would like to provide jobs for some women in the future, whether near or far, by purchasing the equipment and factory to manufacture the pads locally, turning Women's Haven into an international brand – brand offered in every store and pharmacy, giving women have easier access to the organic product line."
Another goal for 2020 goal is to petition the government to remove VAT from sanitary pads, as they are an essential item for women just as bread basket items are. Meredith and her team will be joining forces with other like-minded institutions to bring about this change.
The company's presence is predominately online at the moment, however, as the team is moving to make access to the products easier, customers can purchase the sanitary pads and the yoni oil at places like the Prescription Parlour Pharmacy on East Street South and Carmichael Road, and the sanitary pads at Solomon's Yamacraw, and Fresh Market Old Fort Bay and Harbour Bay.
"I would like to pursue speaking and presenting in schools where I can educate our young women on the dangers of traditional pads and ways they can improve their vaginal and overall health," she said.