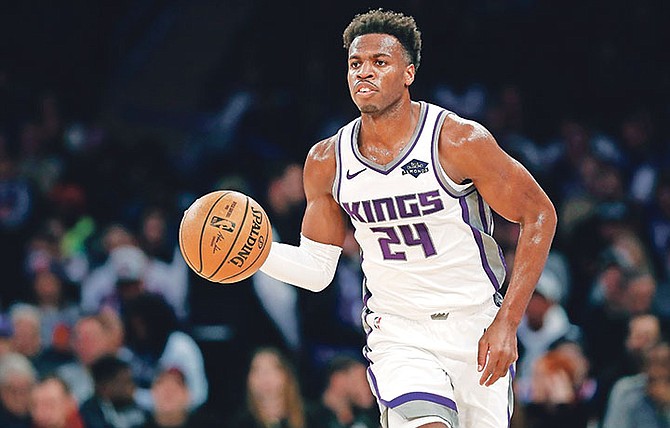 By RENALDO DORSETT
Tribune Sports Reporter
rdorsett@tribunemedia.net
SEVERAL players have opted to change their jersey number from No.8 or No.24 to honour Kobe Bryant, but Buddy Hield has chosen to continue to wear No.24 as a tribune to the late NBA icon.
Hield said that continuing to wear the number and compete at the highest level is a fitting way to honour the memory of the Los Angeles Lakers great.
"I wanted to be like him, run like him, walk like him, put a shooting sleeve on like him so I feel like it'll be great to honour him and to wear his number," Hield said. "Hats off to those guys doing that but I feel like I want to continue to wear No.24 as a tribute and I still want to rep it because of him."
Inspired by Bryant, Hield has worn No.24 at the high school level at Sunrise Christian, three of four years in college with the Oklahoma Sooners and throughout his NBA career with the New Orleans Pelicans and Sacramento Kings.
In his first game since Bryant's tragic death last Sunday, Hield led the Kings to an historic comeback and scored a career-high 42 points for the Kings in their 133-129 overtime win over the Timberwolves.
They overcame a 27-point deficit and Hield made five of his nine three pointers in the final 4:34 in the fourth quarter.
"It was a real tough situation just knowing where I came from and knowing what Kobe instilled in my life, everything was Kobe Bryant. He paved the way for me. People don't understand because, coming from the islands, trying to put the TV on TNT, trying to watch them in the playoffs, the way he'd grind, the way he handled himself on and off the basketball court, the way his work ethic. That's what I fell in love with — his work ethic. He showed that once you put hard work and perseverance, it's undefeated, man," Hield said.
"He showed that throughout this whole world. That's why it left a mark on everybody. That's why everybody's feeling so hurt, because what he left on everybody's heart was big — that Mamba mentality. Just leaving a mark and just grinding. It doesn't have to be basketball. It's everything you want in life, whether you're a doctor, a lawyer, a firefighter, whatever, man. God has blessed them tremendously. There's only certain people God blessed like that and he's one of those people God really put his hands on."
Hield wore Bryant's signature sneakers detailed with several messages memorialising his childhood idol. "I was thinking about (Bryant) a lot," Hield told NBC Sports California. "Even when my brother called me, he was like, 'Do it for Kobe.' Everybody knows how much Kobe meant to me in the Bahamas. All the arguments, all the fights I got in (saying) he's better than Michael Jordan. I shouldn't say that, but that's all I knew growing up is Kobe Bryant. That's all I could watch. … Kobe was always that guy for me and he made me believe."
As for this season, with the NBA's All-Star weekend hosted next month in Chicago, Hield is already lobbying for a second invite to the Three-Point Contest.
"I'd like to do it again and win it. I haven't shot the ball as efficiently as I want to this year, but I'm a better shooter than my percentage shows. If they'll (select me), I'll go, for sure." Hield said.
"It's different when you have a million people watching you, but it's something you've done a million times," he said. "Just stay locked in and be ready for the opportunity to come. Anything can happen. You don't know if somebody gets hot and wins it all, so you have to get out of the first round."
At last year's MTN Dew 3-Point contest, Hield reached the championship round but finished third behind second place finisher, Stephen Curry of the Golden State Warriors and eventual champion, Joe Harris of the Brooklyn Nets.
Hield brought fans to their feet with his 26 points in the first round, which topped the leaderboard ahead of Harris (25) for a brief moment before Curry made 27.
Hield posted 19 points in the championship round while Harris topped the field with 26 and Curry finished with 24.
"You can't choke," he emphasised. "When you miss one, you can't choke."