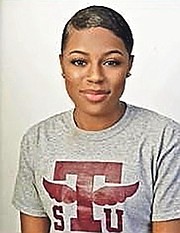 By BRENT STUBBS
Senior Sports Reporter
bstubbs@tribunemedia.net
NOW that she has graduated from Texas Southern University, sprinter Alexis Gray is making her adjustment to her professional career in athletics (track and field).
After coming out in the fall 2019 with a degree in biology with a concentration in chemistry, Gray is still in Houston, Texas where she is preparing to enrol in grad school.
At the same time, she is in a track and field training camp with Olympian Tynia Gaither and coached by Eric Francis of the Elite Performance Track Club and the national coach of St Kitts & Nevis Olympic team.
"It's kind of difficult because right now everything isn't functioning at normal capacity," said Gray, who enjoys working out and dancing, utilising her skills to teach a class called CaribFit at the school's recreational centre.
"Training wise, we had to shut it down because the facilities were closed due to the coronavirus and they made us stay home. But everything is starting to open up, so after a few months, it's still hard because the facilities are not all ready for us to use."
Gray said they are focused on training on a lot of open spaces and she is even training at home as she tries to cope with this pandemic as best as she can. But she noted that she can't wait to start training again.
The 2015 graduate of St John's College was hoping to make the Bahamas national team at the 2020 Olympic Games in Tokyo, Japan.
But Gray said it was a blessing in disguise that it was postponed from July 24 to August 9 to July 23 to August 8, 2021.
"That's one of my main goals right now," Gray said. "A lot of things in my personal life this year was making my job complicated. So it was a weight lifted off my shoulders when I heard that it was being postponed.
"Now that I have the time to get into grad school, I can start my training in August so that I can put all of my time into my training so that I can be ready to make the team next year."
In making the transition from competing for college and now training to become a pro athlete, the 22-year-old Gray said there's no comparison. "The personalities of the pro athletes are quite different from the college athletes," Gray said.
"They come in and get to work and they leave as opposed to college athletes, who are so friendly and focus on fun and games.
"When you come out to practice as a pro athlete, it's all business. They know it's their livelihood, so we take it much more seriously than we did when I was competing for college."
During her collegiate career at Texas Southern, Gray posted personal bests of 7.41 seconds in the 60 metres indoors, 11.68 in the 100m, 23.52 in the 200m, 56.46 in the 400m and 4.93 metres or 16-feet, 2 1/4-inches in the long jump. Gray represented the Tigers at the Southwestern Athletic Conference (SWAC) Indoor and Outdoor Championships as well as the National Collegiate Athletic Association (NCAA) Championships.
But now that she's done, she doesn't intend to compete in any meets this year except for maybe a timed trial because of the coronavirus.
And with all of the social unrest and racism in the aftermath of the death of American George Floyd on May 25 and in the midst of the increase in the spread of the coronavirus, Gray said it's not easy moving around in Houston. "With so much focus on the Black Lives Matter movement, it kind of makes you fearful when you move around," said Gray, who has avoided getting involved in any of the protests that took place in Houston.
"You don't want to put your life in danger. You can't just say that because I'm a girl, I can walk down the street. It doesn't matter. You can be abused just like anybody else because of your colour. So it is nerve wracking to be in the states right now so you have to tread lightly."
While she's still conscious of what's going on, Gray said she tries not to be too fearful and still goes on with her life as usual and not let her circumstances get the better of her.
With the Bahamas government opening the borders for residents and visitors to come here, Gray said she may make a trip home to see her parents Charles and Tanya Gray, as well as the rest of her family and friends.
But she's committed to her goal of completing her studies and training for the Olympics at the same time as she attempts to qualify for both the 100 and 200m and possibly running on the 4 x 100 and 4 x 400m relays, if the Bahamas Association of Athletic Associations gets to field those teams.