By RENALDO DORSETT
Tribune Sports Reporter
rdorsett@tribunemedia.net
THE COVID-19 pandemic has presented a series of challenges to student athletes, particularly to outgoing high school seniors.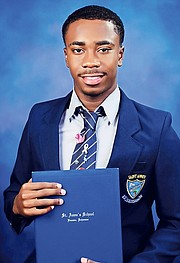 Dominic Archer Jr (left) said an incomplete senior season on the track and missed opportunities for exposure has been a hindrance to the collegiate recruitment process.
"I think it affected my progression as a sprinter by not allowing me to actually run the times I have placed in my goals for this 2020 season. There were goals that I had in mind that I didn't get to accomplish or not running the times I had put in place to reach by the end of the season," Archer said.
"This pandemic has affected my collegiate recruiting because once the sports world went into a complete lockdown, I did not have the chance to get the exposure I really needed in order to be recruited by certain schools."
The St Anne's Blue Waves graduate is also the current BAISS senior boys' 100 metre champion.
"It's a handful of schools that showed interest, I am still deciding on what my route should be to get to where I need to go. It's a very tough and frustrating process, but with God's guidance it will work out smoothly," he said.
"The most important for me in deciding on a school is the coaching, and the relationship with the coach and teammates there. Also the atmosphere should feel positive and a nice working environment.
"And the level of work at the school should be high in order for me to progress and improve."
Without an opportunity to compete at a major regional meet like CARIFTA or earn a spot on other national teams, the limited exposure on the season has also been amplified by a problem all athletes have been faced with recently - training restrictions due to the pandemic.
"With the lockdown being implemented it was frustrating to not be able to actually go out and work out the usual way. Also the mindset you have to maintain as an athlete in order to keep doing the little necessary workouts even in a pandemic is tough," he said.
"Recruiters do ask about how you have been training over the lockdown because they need to know if you are at a decent fitness level in order for them to recruit you."
For now, he continues to train and explore his prospects during the offseason.
"The ideal situation I believe for me to do is wait until everything is fully cleared or at least to some normalcy and try to work from there," he said "At the collegiate level I plan on doing what I always do, which is to work hard and fix the necessary techniques that I need to improve on in order for me to get to that next level of competition."