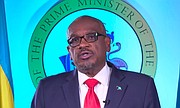 By BRENT STUBBS
Senior Sports Reporter
bstubbs@tribunemedia.net
Prime Minister Hubert Minnis yesterday announced some recurring safety measures to try and help curtail the spread of the coronavirus pandemic in New Providence and Grand Bahama.
Minnis said on the advice of health officials and out of an abundance of caution, public and private beaches and parks on New Providence, Paradise Island, Rose Island, Athol Island and surrounding cays will be closed until further notice.
The same goes to Grand Bahama, which has also been hit by the closure of all sporting activities.
Minnis further noted that if efforts to decrease the number of cases are unsuccessful, other restrictive measures may be recommended, including a lock down beginning on Friday, July 24.
In Grand Bahama, Quinton 'Three Ounce' Hall, president of the Grand Bahama Amateur Basketball Association, said it's business as usual with no sporting activities for the past few months.
"He (Prime Minister) has to do what he has to do," Hall said. "I can't go against what the boss say. If that's how he feels, it's the best for the country and Grand Bahama, I'm all for it.
"The most important thing is that you have to stay safe and you need to be healthy in these times. So I'm all for whatever decision he makes to make sure that we stay safe."
The GBABA would not have been adversely affected by the decision because Hall said all gymnasium and parks were already closed because of the pandemic.
"We would resume in the new year, so there won't be any basketball right now," Hall said.
"We didn't plan to do any summer programme. It's in everybody's interest to stay away from the large crowds."
From a personal perspective, Hall said he's still trying to get his family through the hurricane Dorian ordeal that left them devastated, so he's taking whatever safety measures prescribed by the health officials.
One of those associations which will be affected is the Bahamas Association of Athletic Associations, whose president Drumeco Archer said they made the decision to cancel their National Track and Field Championships, which would have been staged this weekend.
"In light of all that has been happening and with the resurgence of the virus, we won't be holding the nationals because we were expecting some numbers to come out of Grand Bahama," he said.
"So in light of that, we won't be having our nationals. There is the possibility of us having some individual invitationals, similar to what World Athletics has done recently. We might have an invitational 200 metres or a long or high jump competition, but we won't have a social gathering taking place."
As for Minnis' statement, Archer said he is in charge of the executive board of the country and he and his cabinet decided that it was in the best interest to take these necessary measures. "What I can say, as it affects sports, is yes when you look at it on its face, sports across all lines have been affected," Archer said. "When you look at it, athletes have been able to continue their training with virtual instructions from their coaches.
"It takes us back to the days when we were once athletes where we trained in isolation of group settings and that was effective. I don't know if there is anything to prove that athletes training in groups show greater results than those athletes who train in smaller groups or in isolation.
"I think it causes our track and field community to reflect on what they are not doing and certain things that are just more expedient to training in a new COVID-19 environment."
With no possible end in sight over the horizon, Archer said its going to be incumbent for all stakeholders in the sport to be more inventive in the way they progress for the rest of the year.
Simply put and hypothetically speaking, Archer said instead of just looking at lemonade, they now have to look at making lemonade, which happens to be his favourite drink.
Mario Bowleg, president of the Bahamas Basketball Federation, which was preparing to launch its national team programme next month, said he's still trying to find out why New Providence is being hit with the park closures.
"We believe that any sporting activities that are taking place, the organisers would have taken the necessary safety procedures and social distancing," he charged. "So for me, I could see the parks in Grand Bahama being closed because of the spike in cases there, but in New Providence, I don't see why people can't go on the beach and exercise and use the parks because for the most part, people have been adhering to social distancing and wearing their masks."
Bowleg, however, said while Minnis made mention of the beaches and parks, he didn't hear of any of the gymnasiums being closed so that should allow the professional athletes and the national teams to resume their training.
"We hope that they will be allowed to continue their training under the social distancing protocols and the wearing of masks," he said. "There was no indication that those activities will not be allowed to continue.
"There are only a limited amount of persons who are engaged in these activities and there is a small amount of persons under the basket at any given time, so I don't see, for all indications, that it won't affect us."
With about 20 men and women home and utilising the AF Adderley and Kendal Isaacs Gymnasiums for their training sessions, Bowleg said they hope that their opportunities to work out won't be affected over the next month or so.
Perry Newton, newly elected president of the Bahamas Lawn Tennis Association, said while he was shocked at the announcement, he understands the situation that the country is going through.
"Because of the lack of sporting activities in Freeport, I think they feel it the most, in terms of being locked down again, so they can't do any sporting activities" he said. "So far, he hasn't said anything about Nassau. The players in Nassau still have the opportunity to play and train, so we still have some optimism because we still can do some sporting activities."
However, Newton erred on the side of caution as well.
"Whatever we do, we still have to do it in a safe environment. We don't want us to go back to the point that we were in early March and April. We're praying that the cases don't rise and everybody remains healthy and do our best to practice safety and social distancing."
Still in the planning phases since resuming the leadership of the association a few weeks ago, Newton said they are taking the necessary precautions to ensure that all of their players are in a safe environment.
Just in the nick of time, IC Bahamas - a private entity - concluded a week long training programme in Grand Bahama over the weekend that was conducted by national team players Larikah Russell and Rodney Carey Jr.