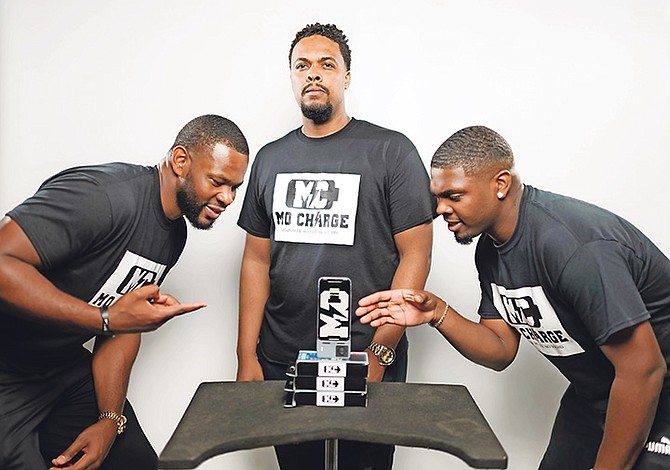 By BRENT STUBBS
Senior Sports Reporter
bstubbs@tribunemedia.net
He couldn't have easily been concentrating on getting back to playing basketball in Europe, but for North Andros native Shaquille 'Shaq' Cleare, the coronavirus pandemic has turned out to be a blessing in disguise.
Since returning to the Bahamas in March when the pandemic shut down sports on the global stage, Cleare reunited with his cousins, Micah and Christen Miller, as they worked on the creation of a company called Mo Charge Inc, which produces the Vertex 1 charger and is available at www.mocharge.com.
"I've been focusing more on Mo Charge Inc.," said Cleare about his future aspirations. "We've been working on it since I got back."
Cleare returned home after his league in Spain got shut down due to the spread of the coronavirus, just like all other sporting activities.
But the 27-year-old national basketball team member said his mind has not been on the game over the past few months.
"I was kind of disappointed when we got the news that they were going to shut down the league," Cleare said.
"We were fighting for a place in the playoffs, but the concern was more about the safety of the players and not the league."
The 6'8", 275-pound forward was playing for Actel Forca Lleida that competes in Spain's Liga Española de Baloncesto – Gold, the second division in the country's basketball system.
"I've gotten a few offers already, but I'm still waiting on some better ones," Cleare said. "I've been training daily. So I'm still waiting to see what happens with the deals on the table.
"I haven't been at the AF Adderley or Kendal Isaacs Gymnasium to do any training. I was just doing a lot of stuff on my own, just to stay in shape, if I decide to take that route and head back to Europe. But that's up in the air for me right now. I'm still training daily."
With no time limit on when sports will resume overseas, Cleare said he decided to utilise his time to focus on developing the Mo Charge Inc. brand.
"That's been my focus because we don't know what will happen with this pandemic. So that has been my focus since I've been back."
Micah Miller said he's delighted to be partnering with his cousin.
"It's much easier for us to do this business together because we all live together," he said. "We are depending on social media and platforms like the newspapers and radio and television to get our message across.
"The Bahamian people have a window to buy it at a very reasonable price. We won't do any international advertising during that window. Bahamians will have the cheapest price in the world. After that window has already passed, we're going to the United States and the rest of the world."
According to the company, the Vertex 1 provides up to 30 hours extra battery life, it has two wireless charging zones along with a built-in USB output power port and is designed to charge three devices simultaneously. It also has a built-in Bluetooth loud speaker with up to 45ft range and a built in retractable kickstand.
The cost to the Bahamian public is $49.99, but once they market to the United States and around the world, they will be increased to $89.99, which includes battery cases or power packs.
"We know that this is going to take over the market. This is going to bring in a lot of money, so this is where my focus is right now," Cleare said.
"We are looking at making millions of dollars on these devices."
Cleare said although he goes overseas to play basketball to make money, he's focusing on Mo Charge Inc. because he feels there's a lot more money that their company can accumulate in the long run.