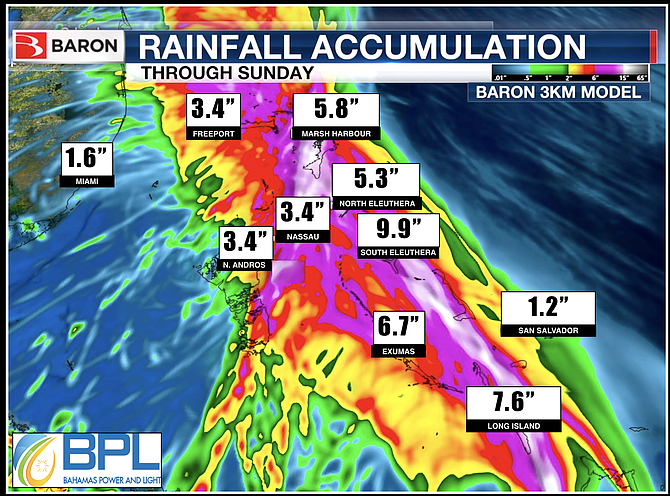 • SATURDAY'S UPDATES CAN BE READ HERE
8.30pm: From the Associated Press – Isaias had maximum sustained winds of 80 mph (130 kph) Friday night and was expected to strengthen in the coming hours, the U.S. National Hurricane Center in Miami said. The storm was centered about 175 miles (280 kilometres) south-southeast of Nassau in the Bahamas and was moving northwest at 15 mph (24 kph).
The hurricane knocked shingles off roofs and tumbled trees as it carved its way through an archipelago still recovering from Dorian's devastation. Bahamas Power and Light Co. cut off power in certain areas for safety.
Paula Miller, Mercy Corps director for the Bahamas, told The Associated Press that while the islands can normally withstand strong hurricanes, some have been destabiliSed by the coronavirus pandemic and the damage caused by Dorian.
"With everything not quite shored up, property not secured, home not prepared, even a Category 1 will be enough to set them back," she said.
8.25pm: Long Island MP Adrian Gibson posted this update on his Facebook page approximately an hour ago:
"Long Island is currently experiencing hurricane conditions. As the hurricane passes Long Island, the winds are blowing between 50 to 60 mph, down from estimated gusts of 65 to 75 mph that were experienced earlier. These winds have been accompanied by heavy rainfall which, given the passage of time, is currently intermittent.
"Notably, most of the winds/heavy rainfall has been concentrated between the southernmost settlements of Long Island and the Lower Grays community.
Electricity remains off.
"There are no accounts of major flooding, although we have received reports of some damage to trees. The road ways remain clear and have not been obstructed.
So far, the island is faring well.
"At present, two shelters are occupied, i.e. the Seymours Gospel Chapel (3 persons) and the Community Center (6 persons, down from the earlier report of 7)."
8.15pm: Coverage of today's joint NEMA and Ministry of Health press conference which addressed both the current position of Isaias, and an update on the COVID-19 pandemic in The Bahamas can be found HERE
7.45pm: Video and graphics (above and left) showing Rainfall Accumulation & Projected Winds / Gusts
5.35pm: Grand Bahama residents in 20 communities along the coast and other vulnerable areas are being advised to evacuate, Minister of State for Disaster Preparedness, Management, and Reconstruction Iram Lewis has said. This comes as the island - still recovering a devastating blow from Category Five Dorian last year – is forecast to experience three to five feet storm surge as the system brushes the island on Saturday – full story.
5pm: A new map has been issued by NOAA (main picture)
3.42pm: Hurricane Warnings discontinued for Inagua and Turks and Caicos – but REMAIN IN EFFECT for the rest of The Bahamas.
3.40pm: Minister Iram Lewis stressed that persons in quarantine are not to leave their homes and should get assistance from family members and members of the public to help them with preparations for the storm.
"We have to abide by COVID-19 regulations, we have to be strict with that and ensure that those persons remain on lockdown," he said.
Meanwhile, Minister of State for Bahama Senator Kwasi Thompson said that the Ministry of Tourism is aware of all visitors on the island, and any visitors wishing to leave can do so by private charter.
He noted that the Office of the Prime Minister has received requests by hotels to open, and will consider, on a case by case basis, the hotels required to open to receive those persons who are evacuated. He is urging GB residents to  complete all preparations by this evening.
3.20pm: From the Public Hospitals Authority:
Public Notice Hurricane ISAIAS
PHA Institutions Suspending Services as Storm Approaches
The Public Hospitals Authority (PHA) its agencies and institutions are taking every precaution to protect patients and staff as the Hurricane Isaias approaches the central and northwest Bahamas. The
Princess Margaret Hospital (PMH) and the Sandilands Rehabilitation Centre (SRC) will fully activate their Command Centers as of Friday, July 31, 2020.
• Princess Margaret Hospital
PMH wishes to advise that for the duration of the storm, the Emergency Department will only be seeing emergency patients. Non-emergency patients will be seen after the all clear has been given.
In the event of a medical emergency contact emergency medical dispatchers at 919 or contact the Hospital Emergency Department at 326-7014.
The Outpatient Pharmacy will suspend operations at 3pm Friday 31st July, 2020. Normal operating hours will resume after the All Clear has been given.
The Family Medicine Clinic on 4th Terrace East will suspend operations at 5pm Friday 31st July, 2020.
Normal operating hours will resume after the All Clear has been given.
PMH Blood Bank will suspend operations at 5pm Friday, July 31, 2020. The last donor will be accepted at 4:30pm. The Hospital is in urgent need of all types of blood, the public is encouraged to donate.
Maternity patients with delivery dates between Friday 31st July and Sunday 2nd August, or any maternity patients experiencing signs and symptoms of labour are asked to register with PMH Maternity Ward before 5pm Friday 31st July. Maternity patients considered high risk should contact the Maternity Ward at 328-4929 for further information. All Maternity patients should remain indoors for the duration of the storm.
• Sandilands Rehabilitation Centre
SRC wishes to advise the public that all outpatient services are cancelled until after the all clear is announced. Following the all clear teams will convene to provide scheduling of services moving forward.
• Grand Bahama Health Services
GBHS wishes to inform the public that the Pharmacy at Pearce Plaza will close at 4pm Friday, July 31, 2020.
The Freeport Community Clinic will remain open until 6pm Friday, July 31, 2020. The Pharmacy at the Freeport Community Clinic will remain open until 6pm.
Grand Bahama Community Clinics:
The Eight Mile Rock (EMR) Community Clinic will suspend normal operations at 1pm Friday, July 31, 2020.
EMR Clinic will provide service for emergency cases only until further notice.
All remaining community clinics, including High Rock and Grand Cay, Abaco, will close at 1pm Friday, July 31, 2020.
The Non-urgent/General Practice Clinic at the Freeport Community Clinic will remain open from 12 noon until 6pm Friday, July 31, 2020.
Outpatient Specialty Clinic at Pearce Plaza will suspend operations at 1pm Friday, July 31, 2020.
The public is strongly urged to pay attention to all public health announcements, public service announcements and updates regarding health and hospital services during this time.
3.15pm: From Long Island MP Adrian Gibson – "Per BPL, as of 2 p.m. today, power in Long Island has been shut off. BPL advises that Long Island - along with a few neighboring islands - will remain off until the storm passes or it is safe to re-energize."
3.00pm: Grand Bahama Police Command Center activated. The numbers are 350-3084 or 350-3082. Police will be closely monitoring conditions at Fishing Hole Road and will shutdown the causeway should it become impassable. Supt Doyle Burrows advises that no rescues will be carried out during the storm.
2.45pm: Rand Memorial Hospital Administrator Sharon Williams reports that the COVID-19 Center at Cancer Association Building has been activated for COVID-19 patients; Samaritan's Purse tent hospital has been de-activated; Patients are being accommodated at A&E and Sunrise Medical Center; Emergency Room is open only for emergencies; Community Clinics will close at 6pm today.
2.30pm: A message from Long Island MP Adrian Gibson for his constituents:
"As we prepare for the impact of Hurricane Isaias, Long Island is in ready mode!
"The weather is gradually deteriorating. Winds are currently gusting at 50 to 55 mph, with light rainfall at this time. Earlier today, islanders experienced heavy rainfall. Seas are extremely choppy.
"At present, the Command Center - situated at the Administrator's Office in Clarence Town - is fully operational. The Command Center is equipped with back-up generator and other necessary equipment. 
"The police stand ready, have mobilized and have prepared their emergency equipment.
"All key holders for shelters are ready in the case of an evacuation. Of the 8 designated shelters, 5 have been activated. The 5 activated shelters are the Seymours Gospel Chapel (Seymours), Salem Baptist Church (Millers), the Highway Church of God (Doctors Creek), the Community Center (Clarence Town) and Holy Cross Anglican Church (Hamiltons).
"Notably, the Holy Family Catholic Church (Mortimers), Assemblies of God (Salt Pond) and St. Johns (Buckleys) are currently not activated but remain on standby if the need arises. 
"At this time, seven persons are currently housed at the Community Centre. The Center is being managed by Cassandra Dean and Debra Major.
"Bus transportation - for persons living in the south, central and north Long Island and who might wish to evacuate - has been arranged and will be provided by Mr. Rudolph Pratt and Mr. Vernal Tappy Adderley. 
"Long Islanders are encouraged to remain indoors during this storm, to remain safe and we must all continue to be our brothers and sisters keepers.
"A further update will be provided later today."
2pm: A new tracking map has been added. (main image)
1.50pm: Minister Iram Lewis today announced the addition of four shelters, for a total of eight on Grand Bahama. The official shelters are: Bishop Michael Eldon High School; Foster B Pestaina Hall (Special Needs); Calvary Temple, Maurice Moore Primary School (East Grand Bahama residents); Calvary Temple; St Georges High School Gym; Eight Mile Rock School; Central Zion Baptist Church; and Bethel Baptist Church.
Shelters in Grand Bahama opened at 12noon. EOC in GB has been activated. Mr Lewis said persons in quarantine who wish to evacuate must call EOC at 351-4902/3.
Evacuation orders have been given for residents along the coastline, including McLean's Town, Sweeting's Cay, High rock, Dover Sound, Barbary Coast, Lucayan Glen, Forest Green, the Harbour area, Airport zone, East Airport Zone, Queen's Cove, Lucayan Estates, the Heavy Industrial Area, and coastal areas of Williams Town, Russell Town, Pinder's Point, Bay Shore Road Eight Mile Rock; those on Rolle's Avenue and Quacko Street in Holmes Rock; Deadman's Reef, Bootle Bay and the entire community of West End.
Residents of East Grand Bahama advised to evacuate are asked meet at McLean's Town dock at 4pm for transport into Freeport.
Grand Bahama expects three to five feet storm surge. Residents advised to complete preparations tonight, GB should begin experiencing some effects by Saturday morning.
1.30pm: AS Hurricane Isaias approaches, Bahamas Power and Light has announced a controlled shutdown of high-risk parts of the New Providence grid, starting at 8pm – full story
• RESIDENTS in New Providence flocked to grocery stores and gas stations early on Friday morning, queueing in long lines to receive food and other essential items in preparation for Hurricane Isaias – full story
• The National Emergency Management Agency has announced that shelters have opened on New Providence.
The following shelters opened at 10am on Friday:
Berea Seventh-Day Adventist Church (Baillou Hill Road South)
Canon Neil E Roach Hall, Holy Cross Anglican Church (Highbury Park)
Epworth Hall, Ebenezer Methodist Church (for use by Homeless and People with Physical Disabilities) (Shirley Street)
Hillview Seventh-Day Adventist Church (Tonique Williams Darling Highway)
New Bethlehem Baptist Church (Independence Drive)
New Providence Community Centre (Blake Road)
Pilgrim Baptist Temple (St James Road)
Remnant Tabernacle of Praise (Carmichael Road)
Rev Dr OA Pratt Educational Building, St John's Native Baptist Church (Augusta and Meeting Streets)
The Salvation Army (Mackey Street)
• Today's print edition lead story: PRIME Minister Dr Hubert Minnis said stronger measures will be implemented to prevent spread of COVID-19 after Tropical Storm Isaias passes as the country recorded three COVID-19 deaths and passed a grim milestone yesterday of more than 500 recorded cases of the virus. He announced that weekend lockdown measures will be relaxed so people could prepare for the storm. He said curfew will begin at 10pm and end at 5am until further notice. Food stores, water depots, gas stations and pharmacies will be permitted to open until 8pm tomorrow while hardware stores can open until 8pm tonight and tomorrow, he added – full story HERE