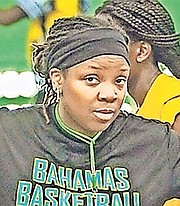 By RENALDO DORSETT
Tribune Sports Reporter
rdorsett@tribunemedia.net
YOLETTE McPhee-McCuin was one of several leaders of Ole Miss Rebels student athletics to lead a Unity Walk on the Oxford, Mississippi campus as protests against police brutality continue across the globe.
The Grand Bahama native is the school's first black female head women's basketball coach. Her programme joined athletic administrators, coaches and student athletes from various sports.
It was a show of solidarity for Ole Miss athletics as their unity walk coincided with protests across the globe in the wake of the deaths of Ahmaud Arbery, Breonna Taylor, and most recently George Floyd.
"As athletes and coaches we know how important it is to be believed in. Whether we are cheered on by a sold out stadium or looked up to by one small child, the belief of others in us, their support of us, and their love for us makes a huge difference in the scoreboards that push us to be great. We are here today, realising that a handful of minds, and only a little more than a handful of our time cannot just be a photo op," McPhee-McCuin. "We, black and white are the beneficiaries of the struggle for black freedom - a struggle born generations ago by black people who loved a nation that long considered them at best, second class citizens. And whether through generations of tilling the soil of this state, or through mid-20th century boycotts, sit-ins, or voter registration, generations of black Mississippians sacrificed their own freedoms not just for Freedom Summer, but for the freedoms we enjoy when as athletes and coaches, we run onto the gridiron in the fall, when we hit the hardwood in the spring, and when we blaze the track in the summer too."
McPhee-McCuin was one of several speakers to address the rally alongside athletic director Keith Carter, football head coach Lane Kiffin and Oxford Mayor Robyn Tannehill.
"As athletes and coaches, we who believe in freedom cannot rest on the euphoria of history making seasons or even championships. Banners and rings, while wonderful, do not keep black athletes or coaches, our families or our friends, safe from the fear of race based discrimination. They most certainly do not keep us safe from the threat of race-based emotional and physical violence. Black sporting achievement, and black coaching achievement, whether as the first best, regularly but point to scoreboards across the nation and world," she said.
"Today we gather here, to put a point on the scoreboard for justice. Today we gather here to honour freedom seekers past in solidarity with those justice seekers present. Today, we gather here to say unapologetically, Black Lives Matter."
Participants wore t-shirts with the word "UNITY" on the front. Others carried signs ranging from "BLACK LIVES MATTER" to "SILENCE IS NOT OK" to "I AM GEORGE FLOYD."
In her two years at the helm leading the Rebels' McPhee-McCuin has undertaken a rebuilding project. At 16-45, the Rebels have gone up against 13 nationally ranked squads, 12 of which have come in SEC play.
Headed into next season, the Rebels will have the No.1 recruiting class in the SEC and No.13 class in the nation for the 2020-2021 campaign.
The state of Mississippi and the Ole Miss campus has been a flashpoint of racial tension during the Civil Rights movement and beyond.
In 1962, James Meredith was the first black student admitted to a then segregated Ole Miss. Riots ensued between white segregationists and federal and state forces. Two civilians, one a French journalist, were killed during the night, and over 300 people were injured. In 2002 Ole Miss honoured the 40th anniversary of Meredith's admission with numerous events. A statue of him was installed on campus in his honour.
The Ole Miss campus is also home to a Confederate monument that has recently become the source of controversy. The statue, which has been on the campus since 1906, was vandalised on May 30 with the words "spiritual genocide" spray painted on each side.
According to the Associated Press, "the state College Board has delayed acting on a recommendation by university administrators, student leaders and faculty leaders to move the statue from a central spot on campus to a Civil War cemetery that is still on campus but in a secluded location."