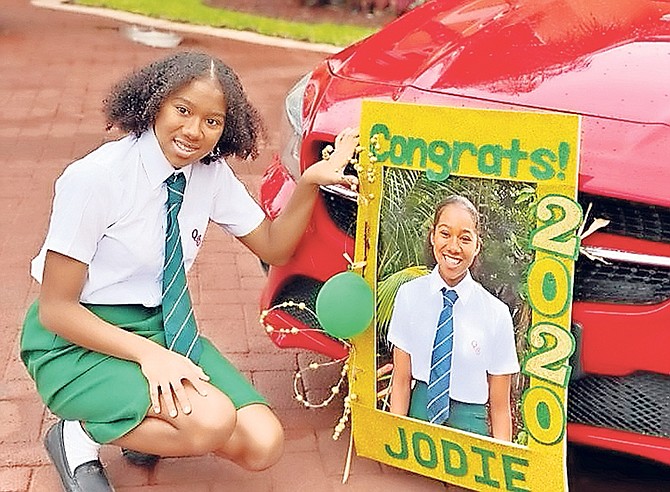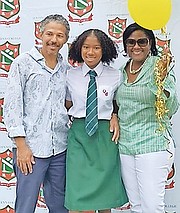 By BRENT STUBBS
Senior Sports Reporter
bstubbs@tribunemedia.net
4-D Stallions Track Club's team captain Jodie Ritchie earned an unprecedented achievement as the middle distance runner graduated in the Queen's College Class of 2020 with academic awards.
Although the ceremony was a virtual one last week Friday, due to the coronavirus pandemic, it was a momentous occasion celebrated by Jodie and her parents, Stan and Patrice, and some family members at their home in the central eastern area of the island.
The 17-year-old Ritchie received the David Pickersgill Memorial Award for excellence in art, the PTA prize and the Principal's Lighthouse award. She also collected prizes for creative craft, economics, office procedures, religious education and AP Studio Art (3D).
As a perennial Principal's List and Honour Roll recipient, Ritchie was also honoured for her accomplishment in the Arts. After being selected as the best young artist during the Central Bank of the Bahamas' Art Contest while in the ninth grade, Ritchie came out with honourable mention last year.
Although apart from her friends, Ritchie still enjoyed and cherished the moment at the virtual ceremony. "It was pretty disappointing (that the graduation ceremony wasn't held as usual), but I felt that the school put a lot of effort in making it a memorable experience," Ritchie said.
"The good thing about the ceremony is you can always watch it again, so you can take the bad with the good. It's still something for you to cherish, even though it wasn't what we expected if we had the formal ceremony."
Now heading to the University of Wisconsin-Madison where she has been accepted into their honours programme, Ritchie said she intends to pursue a degree in computer science.
"Balance is always an important aspect, so I just have to make sure I take care of myself and try to make sure I am investing my time where I should," said Ritchie about juggling her time between her academics and athletics.
"I try not to waste time. When I finish practice, I hit the books and make sure that I revise everything before I go to bed."
Undoubtedly, it worked.
"I was very pleased with everything," lamented Ritchie, who hoped to come back and get involved in cyber security.
"This year, I had the pleasure of taking economics and I really enjoyed it.
"I also enjoyed taking physiology and I was able to take my APs this year, so most of the courses, I was able to dive deeper into it and we even did calculus, which will help me for college this year, so I really enjoyed that."
For the budding future Olympian, athletics was a different story.
"I liked competing in the 800 metres more than the 1,500 metres because it's a bit shorter and I could compete in it more," she stated. "But I will continue to do the two. I want to see where track will take me and what I can do with it."
Looking at her current résumé, nobody was more thrilled about her accomplishments than her mother. "I'm very happy because I know how hard she worked. In 2019, she made the CARIFTA team. It was really hard because I remember Ann (Thompson from the BAAAs office) told me that Jodie was studying while she was at CARIFTA," Patrice Ritchie recalled. "She wanted to make sure she didn't miss too many classes because she was doing BAISS and Nationals, so I was elated last year when she did all of her BJCSEs in grade 11 and she got seven As and three Bs. That was really good."
At the CARIFTA Games in the Cayman Islands, coming off a slight injury she sustained in a physical education class, Ritchie finished 10th in her debut in the under-18 girls' 1,500m.
Her time of five minutes and 36.86 seconds was well off her personal best of 5:12. Ritchie had hoped to improve on her performance this year had the top regional junior track and field competition been held in Bermuda.
But COVID-19 forced officials to call off the games after sports worldwide was shut down in March. As a competitor since she entered grade six at Queen's College, Ritchie has also produced a lifetime best of 2:25.75 in the 800m, a time she eventually aims to lower at the collegiate level.
Mother Patrice is thrilled about her move to the next level. She's pleased to see how she has matured along with her older sister, Jayda, in helping her to overcome her battle with cancer.
In fact, her mother said Jodie, as the president of the Anchor Club at Queen's College, was not only there for her, but she got her classmates involved by assisting in the operation of the Cancer Society of the Bahamas' annual walk race.
"Her and my daughter, Jayda, have gotten involved in the Cancer Society because of my illness," said Patrice, now a cancer survivor. "The people there really know them very well. This year, when she was off, she worked on the front desk helping them out."
Looking back at where she came from, Ritchie couldn't help but thank everyone who played a path in her success, including God.
"When I had my lacklustre experience in track because of my injury and even from my academic standpoint when I struggled, God was there to help me," Ritchie said.
"I thank God for everyone who played a path in my life, including my mom, who is a cancer patient. Even though I am getting ready to go to college to continue my career, I will miss everyone, but we will still be able to talk with technology."
One of those persons she singled out and plans to maintain contact with is coach Franklyn Williams, the head coach of the 4-D Stallions.
Ritchie was under his tutelage for the past two years after leaving the Fast Forward Track Club, headed by Everette Fraser, who is also the head coach of the Comets' track team at Queen's College.
"I'm very proud of her accomplishments, making CARIFTA for the first time last year," said Williams, who watched as Ritchie was the only student-athlete of his 32-member team to graduate from high school this year.
"Moving forward, I expect nothing but great success for her. Academically, she is A-1, but athletically, I am expecting her to eventually make the Olympic cut in the future. I'm looking for great things from her."
After the graduation ceremony, Jodie enjoyed a special meal with her family, but once the curfew is over, mother Ritchie said they will certainly enjoy the festive occasion in a more formal way before her daughter heads off to college. She's following in the footsteps of Jayda, who has already made her mark as a student at Georgia Institute of Technology.
Also a graduate of Queen's College, Jayda Ritchie completed her sophomore year with the distinction of Faculty Honours for the spring 2020. This designation is awarded to undergraduate students who received a 4.0 academic average for the semester.