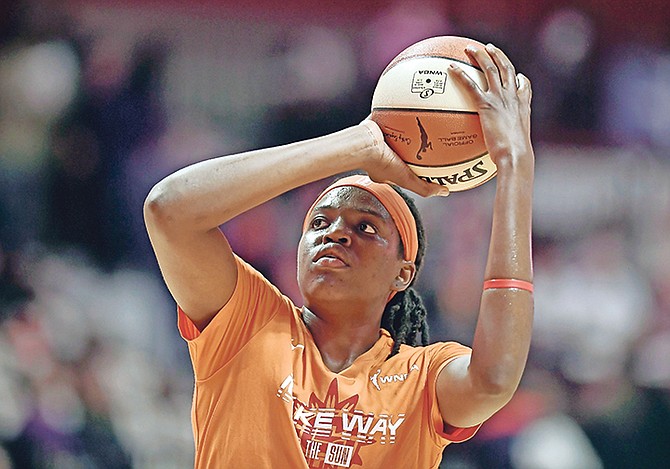 By RENALDO DORSETT
Tribune Sports Reporter
rdorsett@tribunemedia.net
Jonquel Jones cited COVID-19 concerns and a lack of clarity in the WNBA's return to play proposal as the main factors behind her decision to opt out of the upcoming season.
"The biggest factor for me was my health. At the end of the day, you can't spend a cheque if you're not alive. Yeah, you might be out there playing, the money is important to your livelihood but, at the end of the day, your health should be most important. If you're not here you can't enjoy the fruits of your labour," said the Connecticut Sun star forward.
"It was a combination of several things but it just came back to my health. All the other things were kind of cosmetic but my health is the big issue. I just didn't want to put myself in a tough situation for financial gain because, at the end of the day, health is the most important."
In addition to Jones, several players around the WNBA have also opted out of the season since the league announced its intention to return in July.
Last week, WNBA announced a 22-game regular season at the IMG Academy in Bradenton, Florida. The season is set to begin sometime in July, but no confirmed dates have been announced.
In addition to Jones, other players who announced their intentions to opt out of the season include Renee Montgomery and Tiffany Hayes of the Atlanta Dream along with Natasha Cloud and LaToya Saunders of the Washington Mystics.
Players must inform their teams by June 25 whether they are playing this season. Jones said the contract language in the proposal was also a major factor in her decision-making process. "For me it was obviously how COVID-19 was getting back up and surged again, so that was one of the biggest things. I think there were some things in the writing that the league forwarded to the players, it wasn't really bad but I needed more specifics. One of things was where they said if we played all 22 of the games we would get 100 per cent of our salary, but if for some reason we couldn't play all 22, like if a hurricane or something hit, or COVID-19 started to spread throughout the teams and people started testing positive and those 22 games couldn't be played, we would come back and negotiate in good faith - so that was one of the things I didn't like.
"In good faith is cool and all but it's not a definite number. If something happens, we don't know how much of our salary we will get," Jones said, "Another thing I didn't like is when they were talking about high risk players. They would be able to get their salary and opt out, but they didn't really explain what 'high risk' was until players started asking around and they finally explained it. Those are players most susceptible to catching COVID-19 and those players would be able to get their full salary after testing and finding out they were at higher risk. There were just certain things that I wanted in writing. It wasn't that the proposal was bad, it was just that I like we could have voted no as a WNBA players association and gotten the league to give us more specifics and be more accurate with some of the things they wrote about."
The league will be played with no fans in attendance but will work closely with broadcast partners ESPN, CBS Sports Network and NBA TV. The WNBA regularly hosts a 36 game regular season from May to September, with the playoffs concluding in October.
"The Players' Association had a meeting after the proposal and a lot of the players when they sat in on the meeting they were like 'wow' because they didn't really look at it in depth, not on my team but just players around the league. I told my team before they voted that we should say no because they [the WNBA] needed to come back and give us more information, so we had a conversation about it," Jones said, "Most players around the league said 'yes' because they saw that 100 percent salary, but when we came back and talked about it they said if we had that meeting before the vote they would have said no to get more specifics and get more information."
Despite her decision having a detrimental effect on the Sun's championship aspirations this season Jones has the full support of her teammates and front office.
"My teammates are great. There are a few I have known my entire career, I've been talking to them constantly. All of us are bouncing ideas off each other, bouncing feelings and thoughts off of each other so we had an idea of who was going to play and who was thinking of not playing. At the end of the day when I decided my mind was made up, I reached out to them because I didn't want them to feel like they were blindsided. My teammates are the most important thing in the whole organisation, without them we can't do anything and I have such a deep relationship with most of them so I just wanted to reach out to them to let them know how I felt and what was going to happen. They were cool with it and they completely understood," Jones said, "Some people agreed but they said that financially they can't make that choice right now, so I'm actually lucky that where I'm and the team that I play for overseas as well, to where I can make this choice right now, make it about my health. It's definitely a privilege."
Jones, comes off a 2019 season where she was named to the All-WNBA Second Team, the All-Defensive Team and an All-Star for the second time in her four year career. In the offseason, she was a member of UMMC Ekaterinburg in the Russian Women's Basketball Premier League and made an immediate impact on the national basketball programme of Bosnia and Herzagovia.
Jones signed a multi-year contract extension with the Sun in February as the league's free agency period commenced.
She said she now looks forward to time away from the basketball court after several seasons of year long competition and sees it as an opportunity to hone her skills.
"It's all about spending time with family, being able to move freely, working out and working on different aspects of my game. WNBA players, we never get an offseason. We never get that time to just add things to the game and not worry about a game that's coming up, to just go out and perfect for craft," she said, "[So I'm looking forward] to just to able to move how I want to move, visit people, workout, become a better person and a better basketball player."
In 2019, the Sun fell one game short in their historic run toward a WNBA Championship last season, but Jones established herself as one of the premier players in the league with her standout season.
In addition to her aforementioned accolades, she finished third in Defensive Player of the Year voting and was named Eastern Conference Player of the Week four times.
Jones finished the regular season with starts in all 34 appearances, averaged 14.6 points, and posted career highs in steals (1.5 per game) and minutes played (28.8 per game). She also won her second rebounding title in four seasons. Jones led the league in rebounds with 9.7 boards and blocked shots at a career-high 2.0 per game. She also finished fourth in defensive rebounds with 6.4 per game. She grabbed 10 or more rebounds 16 times, including a season-high 22 rebounds on May 31.