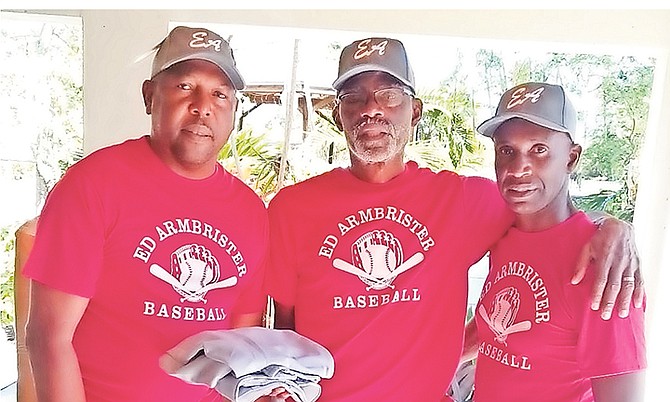 By BRENT STUBBS
Senior Sports Reporter
bstubbs@tribunemedia.net
WITH an increase in the registration of players, the Ed Armbrister Baseball Camp will revert back to a full-fledged league.
According to Michael Butler, one of the organisers, they made the decision to host a league as opposed to a baseball camp because they feel they can cater to more of the young players in the 10-and-under and 14-and-under divisions.
"Instead of just being a member camp, because of the spike in the increased numbers in our player registration and the concerns parents have about their children competing at the nationals," Butler said.
The league will get started on Saturday, March 28, at the Flamingo Gardens Park. Henry Manson is the league coordinator, along with Butler.
About six teams are expected to be divided into two divisions for the formation of the league.
"We want to give the kids the opportunity to play as often as possible," said Butler, a former national team baseball player turned coach.
"We understand the importance of repetition.So we feel that given the opportunity, this will allow the kids to play as much as their counterparts in Freedom Farm and JBLN so that they can be even more competitive at the nationals."
Based on their performances at the end of the league in May, Butler said they will select an all-star team in both divisions to represent the Ed Armbrister League in the Bahamas Baseball Association's National Baseball Championships in June in Grand Bahama.
"We will assess their skills and we will select our very best to represent us in Grand Bahama," Butler said.
Initially, the Ed Armbrister Baseball League was formed about seven years ago. But they moved away from the league play to join the Community Baseball of Nassau where they concentrated on putting on camps in the inner cities in New Providence.
"Because of their proximities, they were all accessible for the baseball camps," Butler said.
"But we felt that it was in our best interest to pool all of our resources together for the overall benefit of the sport.
"With our programme based in Carmichael Road, it became a logistics nightmare moving their players to and forth to participate in the various camps set up. Transportation and playing games on a regular basis became an issue for us."
Before the passing of Hurricane Dorian, Butler said the field at the Flamingo Park was in great playing shape. Since then, he noted the dugouts have been damaged, but they will work with it.
However, he said the facilities are not conducive for the league to play any senior games so they will continue to work with the younger players.
The league is sponsored by Ivan 'Showtime' Francis through his Skate City skating rink off Barcadi Road.