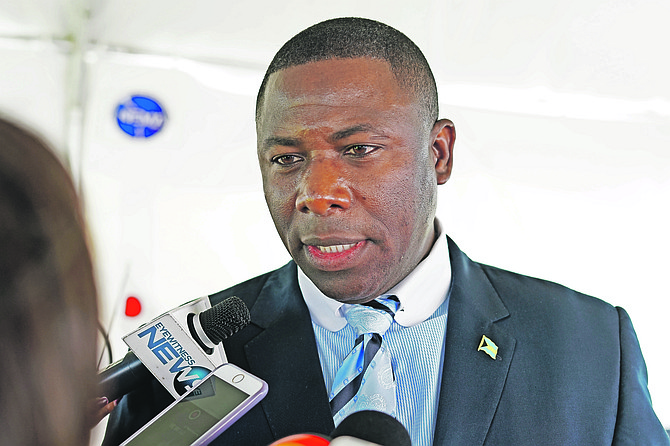 By LEANDRA ROLLE
Tribune Staff Reporter
lrolle@tribunemedia.net
TRANSPORT and Local Government Minister Renward Wells defended the government's decision to shut down the public transportation system, saying the move was necessary to prevent the spread of COVID-19.
Speaking ahead of a Cabinet meeting yesterday, he told reporters: "Our first and primary focus and responsibility is the protection of the life of the Bahamian people.
"So, we took the decision that in order to try (to) flatten out the curve, in order to be able to ensure that we have a level of control over what obviously the world is grappling with right now, the public transportation had to be shut down.
"We know Bahamians are extremely industrious, the Bahamian people are brilliant. We are the most bold, beautiful (and) brilliant people on the planet.
"We have family members and those who would've taken the public transportation system normally, obviously would be able to get assistance from family members and others who would be able to drive them to the requisite places that they would need to go."
His comments came after operators told The Tribune bus drivers would lose income of up to $1,200 per week due to the emergency orders issued by the government.
Under the orders, no omnibuses or jitneys are to be in service to the public until March 31.
Asked yesterday whether the government had plans to help those drivers, the minister replied: "We did have a discussion. I had a discussion with the union of bus drivers. A two-hour discussion with them on Friday morning and they (have) spoken to the media, agreeing to what the government had put in place in regard to the transportation industry."
Mr Wells also addressed concerns about the impact COVID-19 will have on postal services.
He said while his ministry is considering shutting down its "satellite stations", officials are still committed to providing mail services to the Bahamian public.
"What the reality is we have skeleton crews in many of the ministries, only essential services. "The post office is a port of entry so we have taken the requisite steps as a port of entry to try to protect the postal workers who would be sorting," he noted.
"We were shutting down the satellite stations. That was the initial thinking and that only the central post office, the main post office at the Town Centre Mall would be open.
"We're still as you know, as we're moving through this, we're thinking about what best practices is, given the extreme circumstances that we're in, but we're seeking to still deliver services to the Bahamian people, but in a way that is safe."