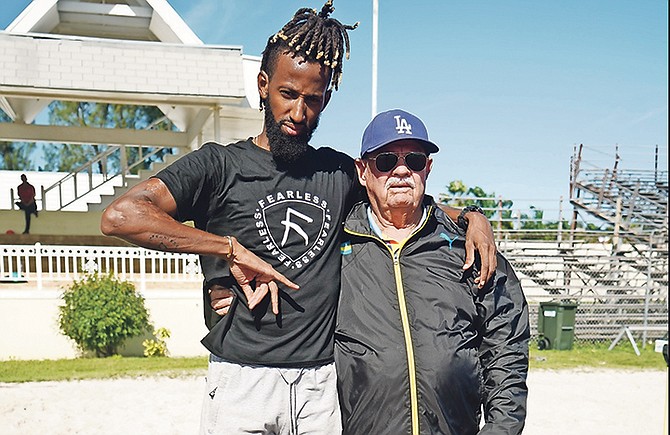 By BRENT STUBBS
Senior Sports Reporter
bstubbs@tribunemedia.net
With their season still hanging in the balance, high jumper Jamal Wilson is calling on Prime Minister Hubert Minnis to allow the elite athletes to use the Thomas A Robinson National Stadium to resume their training.
Wilson, who has already qualified for the 2020 Olympic Games that has been rescheduled for July 23 to August 8, 2021 in Tokyo, Japan, said they still have a season to look forward to whenever the COVID-19 pandemic has passed, so they will need to be ready to compete.
"I just want to put out a request to the Honourable Hubert Minnis to allow us to work out again as athletes," he said. "I know it takes manpower to open the doors at the stadium, but at least it would help the National Sports Authority to keep some of their employees working.
"We just need a couple of hours to come in and do what we have to do. So I humbly ask for us to be able to go into the stadium and do what we like to do, which is to work out and train.
"The season isn't over yet. They only put everything on hold, but we still have a season to complete."
While they have taken advantage of the announcement for persons to exercise at home or in the vicinity of their homes, although the public parks have been closed, Wilson said there's only so much they can do in those environments. That is why he's reaching out to the prime minister on behalf of all his peers.
Without calling names, Wilson said he's in communication with about 10 elite athletes who are home and still have a season ahead of them to compete when they get the all clear from World Athletics, the governing body for the sport in the world.
But he said he doesn't want to make the decision on who should be allowed to train in the facility and who should not.
He said if it's not approved, he believes that "nothing beats a failure, but a try."
If granted, Wilson said they would like to work out between the hours of 7am and 2pm.