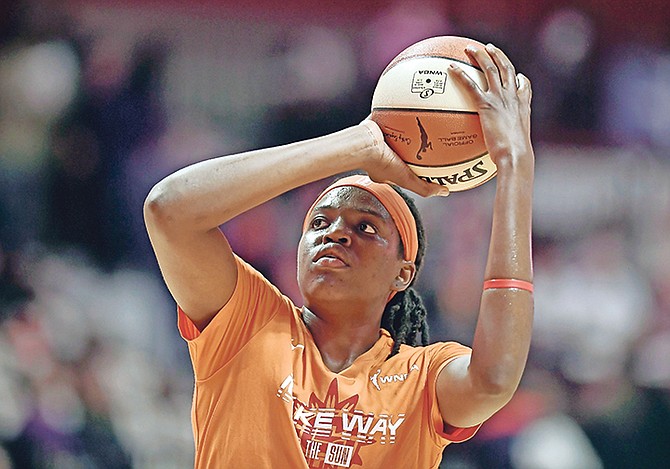 JONQUEL Jones and her juggernaut UMMC Ekaterinburg Foxes club continue to dominate the Russian Premier League.
Jones finished with 18 points, 9 rebounds and three blocks in just 23 minutes as the Foxes routed another opponent with a 92-38 win over Dynamo Novosibirisk yesterday.
The 54-point blowout win is another in the list of lopsided wins for the club this season as they look to repeat as Premier League and Euroleague champions.
En route to a 4-0 record, the Foxes have won by an average margin of 44.5 points per game.
Jones led the team with 35 points and 13 rebounds in an 84-72 win over Nika Syktykar in their season debut.
In game two, she led a balanced scoring effort with 18 points, nine rebounds and five assists in just 28 minutes of a 90-50 win over Sparta & K Moscow.
Jones did not play game three, but her team still won 118-46 over Spartak.
Jones has averaged 23.7 points and 10.3 rebounds per game this season.
A stacked Ekaterinburg roster also includes WNBA stars Allie Quigley (Chicago Sky), Courtney Vandersloot (Chicago Sky), Emma Meesseman (Washington Mystics) and Maria Vadeeva (Los Angeles Sparks). Brittney Griner (Phoenix Mercury) and current WNBA Finals MVP Breanna Stewart (Seattle Storm) are on the roster but have yet to join the team this season.
Yesterday's win was also the first game this season Ekaterinburg has played in front of no fans in their home arena.
Governor of the Sverdlovsk region prolonged the measures on countering the spread of the coronavirus in the region until November 9. In accordance with the new official order, all public physical culture and sports events in the gyms and other closed arenas will be held without an audience.
Last season, the team captured the Russian Premier League and the EuroLeague women's championship. They won their second consecutive and fifth EuroLeague title with a 91-67 win over Dynamo Kursk in Sopron, Hungary in April.
Jones appeared in eight games and averaged 19.6 points and 7.6 rebounds per game. She shot 60 percent from the field, 52 percent from three-point range and 80 percent from the free throw line.