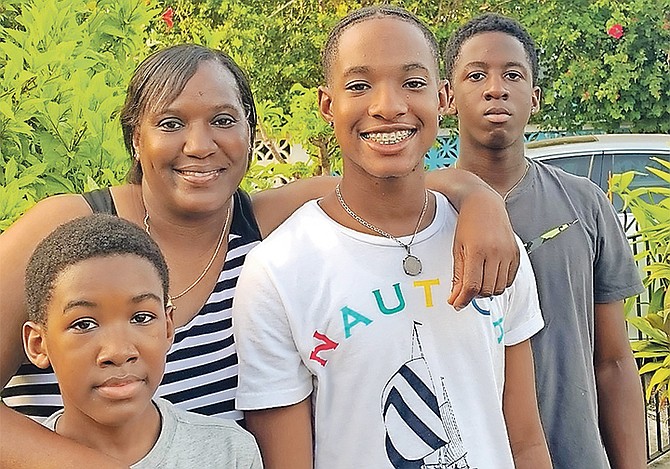 By BRENT STUBBS
Senior Sports Reporter
bstubbs@tribunemedia.net
WHILE she got a chance to celebrate her 44th birthday with family yesterday, Government Secondary Schools Sports Association's president Varel Davis said she's concerned about if and when they will be able to participate in sports this year.
Jeff Lloyd, the Minister of Education, announced on Monday that schools will now open on October 5 with virtual classes being staged until they can find a way to revert back to the regular blended face-to-face classes on campus, due to the spread of the coronavirus pandemic.
"As we go virtual, it means we won't have no kids at school, so we can't have no type of practice or team sports until the virus is cleared up," Davis said. "So it's really going to affect school sports. I have no idea what will happen and even if we are going to have any type of sports this year.
"So we are probably looking at 2021 to start our sporting calendar and even then we may only be able to do cross country and track and field. I don't see us having any team sports right now. So it's going to be very difficult for us to do anything."
With a month to month approach to when school will reopen, Davis said it doesn't give them any indication of how they can form a plan of action for after school sports until the economy is fully opened and students are allowed back into the classrooms.
Normally the school year for the GSSSA starts with volleyball, followed by basketball, track and field, soccer and softball and baseball (for girls and boys in the latter sport).
But Davis said everything is up in the air and she's not sure how her administration will be able to proceed with any sporting activities for the government schools.
It's anticipated that when school reopens, one of the basketball coaches, Harcourt McCoy, will be moving from Anatol Rodgers as the principal to CV Bethel in one of the shuffles at the administrators' level.
As for the physical education department within the schools, Davis said she is only aware of the retirement of Terrance King as a long-time physical education teacher and coach at HO Nash.
However, she didn't have any knowledge of who will be replacing him and whether or not there were any other movements within the remaining junior and senior high schools.
"There's nothing we can do until the ministry allows the students back to school," Davis said. "I've had people calling and asking what we are going to do, but there's nothing we can do. We can't come up with a plan with the students in classes."
In the meantime, Davis said she's just enjoying her birthday. Last year, she said she couldn't celebrate her 43rd birthday because of the passing of Hurricane Dorian. This year, she said she was delighted that Prime Minister Hubert Minnis didn't lock down the country amidst the coronavirus.
"At least I could move a little bit," said Davis, who enjoyed some time at the home of her mother, Ethialy Deveaux, where they feasted on some curry chicken, white rice, cole slaw and plantain with a birthday cake as dessert.