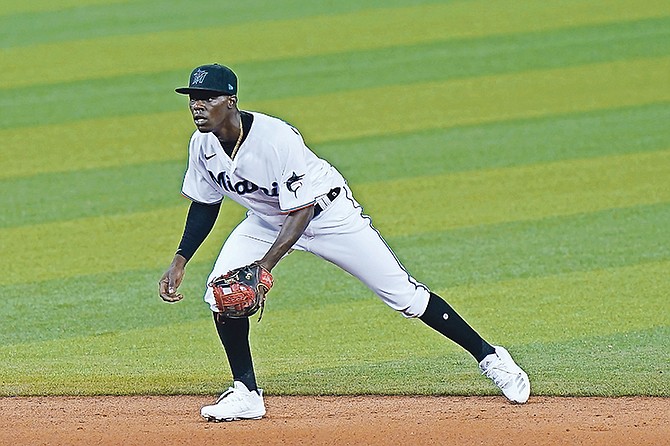 By BRENT STUBBS
Senior Sports Reporter
bstubbs@tribunemedia.net
Even as they moved him around on the infield and up in the batting line-up, Bahamian Jasrado "Jazz" Chisholm showed his worth to the Miami Marlins as he helped in another victory last night.
Playing against the Atlanta Braves at the Truist Park in Atlanta, Georgia, the Marlins pulled off a stunning 8-0 shutout. Miami picked up its second straight victory to improve to 19-18 for third place in the National League's Eastern Division, while front-running Atlanta dropped to 24-18.
The 22-year-old Chisholm was inserted into the starting lineup at second base instead of shortstop and he batted seventh rather than ninth in his previous outing.
Taking advantage of his new role, Chisholm went 0-for-4, but had a walk, three stolen bases and a run scored for .063 average.
In his first at-bat in the top of the second inning, Chisholm got struck out by Braves' starting pitcher Kyle Wright, who relinquished a solo homer to right fielder Matt Joyce on a 2-2 pitch as Miami took the initial 1-0 lead.
Chisholm came back in the fourth and was walked, stole second, advanced to third on a wild pitch and came home with the Marlins' second run in the inning on catcher Jorge Alfaro's run-producing single to left.
Their second run in the inning came when designated hitter Garrett Cooper cracked a 1-0 pitch for a two-run home run to pick up third baseman Brian Anderson, who led off the rally with a walk.
Chisholm got cooled off in the sixth as he struck out as the lead-off batter. He came back in the seventh to ground into a fielder's choice to get on first, but was forced out on another fielder's choice by shortstop Miguel Rojas.
He ended his plate appearance the way he started by getting struck out by Braves' relief pitcher Jacob Webb to end the ninth inning.
Acquired by Miami in a trade with the D-backs for Major League right-hander Zoe Gallen on July 31 last year, the No. 70 overall prospect Chisholm was called up for his Major League debut on Tuesday, September 1.
Chisholm, who had been at the Marlins' alternate site in Jupiter, became the first Bahamian since Antoan Richardson to play in the Major League. Richardson, now a first base coach with the San Francisco Giants, played in the league twice with the Atlanta Braves in 2011 and the New York Yankees in 2014.
Chisholm and Richardson joined five other Bahamians to play in the league, inclusive of Andre Rodgers, Tony Curry, Ed Armbrister, Wenty Ford and Wilfred Culmer.
Since making his debut on the defensive end for Rojas in his first game, Chisholm has played in a total of six games, producing 16 at-bat with two runs with one hit on a triple, a walk and five stolen bases.
Chisholm and the Marlins, who are in contention for the playoffs, will be back in action tonight in Atlanta before they return home to host the Philadelphia Phillies on Thursday.