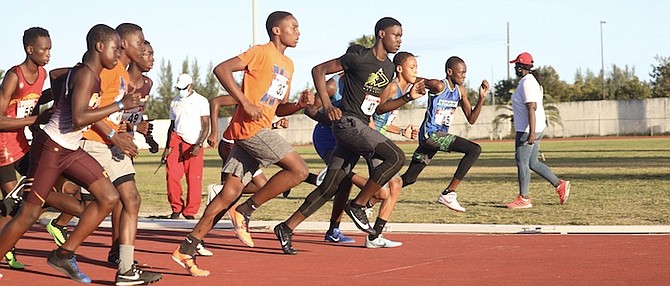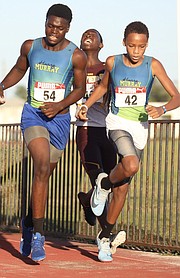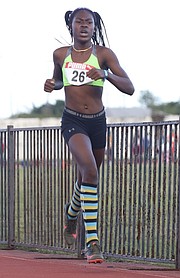 By BRENT STUBBS
Senior Sports Reporter
bstubbs@tribunemedia.net
AFTER two gruelling days of intense competition, the Bahamas Association of Athletic Associations determined the eight-member team to represent the country at the North American, Central American and Caribbean Age Group Championships.
While the trials was held over the weekend at the Thomas A Robinson Track and Field Stadium, the team is scheduled to travel to Nicaragua to compete in the championships December 17-18.
BAAA NACAC YOUTH AGE GROUP CHAMPIONSHIP TRIALS RESULTS:
Girls 11-12 Pentathlon
1 Keyezra Thomas – 2,660 points
2 Keely Deveaux – 2,465 points
3 Eden Johnson – 2,411 points
4 Alexandria Komolafe – 2,238 points
5 Sarsha Wright – 2,090 points
6 Nataya Watson – 2,085 points
7 Syria Smith – 1,948 points
8 Breyteisha Kemp – 1,789 points
9 Dwaynoque Sheperd – 1,755 points
10 Breynice Kemp – 1,722 points
11 Cartia Murphy – 1,523 points
12 Ramonique McLennon – 1,452 points
13 Courtney Ferguson - 988 points
Girls 13-14 Heptathlon
1 Jamiah Nabbie – 3,893 points
2 Phebe Thompson – 3,753 points
3 Zo'E Adderley – 1,603 points
4 Shania Adderley – 3,579 points
5 Castaneda Akompi – 3,540 points
6 Kianna Henchell – 3,449 points
7 Khylee Wallace – 3,137 points
8 D'Andra Sears – 2,915 points
9 Kamia Smith – 2,910 points
10 Stacyann Humes – 2,817 points
11 Alena Sands – 2,731 points
12 Katelyn Miller – 2,726 points
13 Zyhrissa Carey – 2,542 points
Boys 11-12 Pentathlon
1 Kamron Henfield – 2,829 points
2 Jonathan Higgs – 2,725 points
3 Terrin Beckles – 2,585 points
4 Andrew Rolle – 2,508 points
5 Zion Bradford – 2,505 points
6 Anthony Saunders – 2,504 points
7 Lyndavion Storr – 2,500 points
8 Jaheim Pennerman – 2,449 points
9 Cordell Munroe – 2,398 points
10 Sheldon Jones – 2,334 points
11 Rion Larimore – 2,136 points
12 Neko Seymour – 1,838 points
13 Joel McPhee – 1,522 points
Boys 13-14 Heptathlon
1 Kenny Moxey Jr – 4,600 points
2 George Nottage – 4,251 points
3 Gee Sene – 4,239 points
4 Demian Brice – 4,176 points
5 Aden Taylor – 4,134 points
6 Breck Kemp – 3,526 points
7 Davon Davis – 3,385 points
8 Justin Filterman – 3,201 points
9 Jarred Thompson – 3,125 points
10 Stanley Pratt – 3,067 points
11 Martin Ross – 2,394 points
Based on their performances, Kenny Moxey Jr and George Nottage will compete in the boys' 13-14 division, Jamiah Nabbie and Phebe Thompson clinched their berths in the girls' 13-14, Kamron Henfield and Jonathan Higgs have booked their tickets in the boys' 11-12 and Keyezra Thomas and Keely Deveaux are listed in the girls' 11-12.
Moxey Jr, the 14-year-old wearing size 14, was a towering figure at 6-feet, 3-inches over his 10 other opponents as he racked up a total of 4,600 points in the seven-event, well ahead of Nottage with 4,251. Gee Sene was third with 4,239 points.
Since getting started at age four, Moxey Jr said he's been motivated by his father Kenny Moxey Sr, one of the country's top multiple athlete and pole vaulter. But he said his goal is to niché his own name in track and field and he hopes to start with these championships.
"I really enjoyed it. I grew up with most of the competitors, so it was fun competing against them," said Moxey Jr, a 10th grader at Queen's College. "I'm also actually ecstatic. I've never been on a national team with George, so I think we will do very well."
While he dominated five of the events, including the 80m (9.92 seconds for 816 points), long jump (5.41m - 700 pts), 80m hurdles (12.42 - 652 pts), high jump (1.65m - 741 pts) and baseball throw (67.86m - 693 pts), Moxey Jr ended up second in the shot put (10.77m - 559 pts) and struggled for seventh in the finale in the 1,200m (4:06.72 - 439 - pts).
After a close finish to Moxey Jr in the 80m (9.93 - 814 pts), Nottage dropped behind in the long jump (4.92m - 605 pts), but he managed to pick things up again in the shot put (8.99m - 473 pts), 80m hurdles (13.45 - 541 pts), high jump (1.55m - 663 pts), baseball throw (59.35m - 625 pts) and 1,200m (3:52.36 - 530 pts).
Nottage, a 13-year-old eighth grader at CH Reeves Secondary High School, thanked his coaches, including Varel Davis and Foster Dorsett of the T-Bird Flyers Track Club for preparing him to compete to the best of his ability.
"I think the competition was very good. I thought I would have missed my first race this morning (Saturday) because I got here late, but I reached in time," Nottage said. "The competition was good. I just have to work on the 80m and the high jump."
He noted that in teaming up with Moxey Jr, they should be able to push each other.
With her lanky 5-10 figure, Nabbie fell short in her first attempt at making the team in the 11-12 division, but she was more determined than ever to clinch a spot this year.
She got off to a slow start in the 80m (10.37 - 729 pts), but she was more consistent in all of the other events, including the long jump (5.27m - 674 pts), shot put (6.29m - 324 pts), 60m hurdles (10.81 - 869 pts), high jump (1.48m - 607 pts) and baseball throw (33.82m - 389 pts), before she fell off again in the 1,000m (4:03.04 - 301). "I felt good," said Nabbie, who juggles her time between school at QC and operating her own business called "Just Things."
"I wished I could have done better in the 80m and the 1,200m, but it comes with practice. In the hurdles, I was a little timid, but I knew I could do well in the high jump and the long jump because I usually do well in these events."
Thompson, a little more consistent in her events, was determined to make the team as a 10th grader at Bishop Michael Eldon High School in Grand Bahama. She did it by trading the lead with Nabbie during the competition.
In the 80m, Thompson was right in the top of the pack (10.40 - 723 pts), long jump (4.93m - 607 pts), shot put (7.33m - 385 pts), 60m hurdles (11.20 - 811 pts), high jump (1.33m - 484 pts), baseball throw (26.80m - 309 pts) and 1,000m (3:58.47 - 434 pts).
"I feel great. I'm glad that I made the team. I just want to thank the Lord for bringing me safe so far," Thompson said. "I ask that he continue to guide and protect me and that I have a bright future."
As she prepares for her second appearance at the championships, Thompson said she would like to improve her performance as she works on her high jump, ball throw, hurdles and 1,000m run.
"I hope that we can build a bond, stick together and do our best," said Thompson about competing alongside Nabbie.
"We hope to make our country proud of our achievement."
Henfield, in winning the boys' 11-12 category, stood out in just about all of the five events they competed in. They were the 60m (8.16 - 824m), high jump (1.25m - 426 pts), baseball throw (49.79m - 545 pts), long jump (4.73m - 566 pts) and 1,000m (3:31.94 - 468 pts).
"It feels good. I struggled a lot for the past five years, so I'm just happy that I finally made a national team," said Henfield. "My knee started to hurt, but I still managed to pull through."
The 11-year-old Temple Christian Academy sixth grader said once he can develop his form and his speed, he should be a contender for a medal at the championships.
As the runner-up, Higgs tried to keep pace with Henfield.
His performances were as follows: 60m - 8.26 for 802 pts; high jump - 1.35m for 439 pts; baseball throw - 36.43m for 415 pts; long jump - 4.66m for 552 pts and 1,000m - 3:34.72 for 457 pts.
"It was hard, but at the end, I didn't know that I won, but I came this far and I'm very pleased," said an emotional Higgs, a 12-year-old eighth grader at HO Nash Junior High School, as he tried to hold back the tears of joy.
His emotions were worth it after his second place finish behind Henfield.
His performances posted are as follows: 60m – 8.26 for 802 pts; high jump – 1.35m for 499 pts; baseball throw – 36.43m for 415 pts; long jump – 4.66m for 552 pts and the 1,000m – 3:34.72 for 457 pts.
Combining with Henfield, Higgs said they form a formidable team and he's looking forward to some impressive results at the championships, once he can improve on his foot speed and the strength in his arms.
Thomas, in winning the girls' 11-12 division, performed exceptionally well in her five events.
In the 60m, she ran 8.20 for 815 pts, cleared 1.42m in the high jump for 557 pts, threw the baseball 29.14m for 333 pts, cleared 4.37m in the long jump and ran 2:39.85 in the 800m for 471 pts.
"It went good. I came first in two events, but I think I did good overall," said Thomas, who also hails from Grand Bahama where she attends Freeport Anglican High School.
"I didn't have much practice in Freeport, so to come here in New Providence and did so well, I'm really proud of myself. If there's anything I need to work on, it's my ball throw and 800m.
Trailing Thomas, Deveaux did the 60m in 8.36 (779 pts), high jump with 1.27m (440 pts), baseball throw with 40.65m (461 pts), long jump with 4.39m (496 pts) sand ran the 800m in 3:04.63 (289 pts).
"At first, when I started running the 800m, I was feeling bad because I don't run that event," said Deveuax, a sprinter from CH Reeves where she is in grade eight.
"Now that I've done it, I feel much better and I just want to work a little harder in it before I go to the championships."
Having competed in the field events for the first time, the 12-year-old Deveaux thanked Flyers' coaches Varel Davis and Foster Dorsett for getting her prepared. She said she's eager to see how well she can compete against the international field when she travels with the national team.