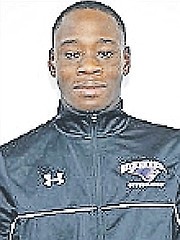 By RENALDO DORSETT
Tribune Sports Reporter
rdorsett@tribunemedia.net
DAVANTE Carey achieved an NCAA Championships qualifying standard and was a part of a record-setting relay team for his McKendree Bearcats at the 2021 Great Lakes Valley Conference (GLVC) Men's Swimming and Diving Championships.
In the 100 yard backstroke, Carey finished second with a time of 47.61 seconds which also qualified as an NCAA championships-B cut at last week's meet in Elkhart, Indiana.
In the men's 400 yard medley relay, Carey teamed with Henrik Dahrendorff, Gregg Lichinsky, and Xander Skinner to capture gold and set a new GLVC record in the process with a time of 3:10.74.
Carey was also a member of the 200 medley relay team along with Dahrendorff, Lichinsky and Caleb Law that finished fourth with a time of 1:27.71.
McKendree finished with a total of 1,120.50 points, fourth overall.Drury University claimed its fifth GLVC Men's Swimming and Diving Championship in programme history with a conference record 1,652.5 points. The University of Indianapolis was second with 1,546.50 points and Lindenwood University placed third with 1,393 points.
In a COVID-19 shortened season that also featured several postponed meets, Carey made the most of his few opportunities this season.
Against Lindenwood in mid January, Carey had three top three finishes. He won the 100 yard Backstroke in 49.93. He was also a member of both the second place 400 yard Free relay team (3:03.18) and the second place 400 yard Medley relay team (3:26.06).
At Indianapolis, Carey was again a top finisher in his signature event. He finished first in the 100 yard Back with a time of 51.39. He was also a member of the 200 yard medley relay team that finished first in 1:31.11.
Carey comes off a freshman season where he earned Academic All-GLVC accolades. He won silver at GLVC Championships and earned three All-American honours at the NCAA Championships.