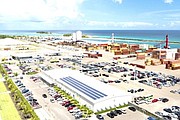 • Vessel arrives with 38 versus 300-400 pre-COVID
• Port profits off almost 36% due to volume slump
• Top executive forecasts no rebound until 2022
By NEIL HARTNELL
Tribune Business Editor
nhartnell@tribunemedia.net
Vehicle import volumes at the Nassau Container Port have dropped by up to 90 percent, its top executive revealed yesterday, as half-year profits dropped by almost 36 percent compared to pre-COVID.
Dion Bethell, Arawak Port Development Company's (APD) president and chief financial officer, told Tribune Business just 38 vehicles were brought in by a vessel that called yesterday compared to the 300-400 cars that were normally brought in by a single carrier pre-COVID-19.
Interpreting this as a sign of both reduced demand and the excess inventories that many dealers are still trying to clear from 2020, Mr Bethell forecast that import volumes across all APD's categories will remain subdued and below pre-pandemic levels for the rest of its 2021 financial year that closes at end-June.
He also predicted that the uncertain, uneven pace of tourism's revival means that BISX-listed APD, which is 20 percent owned by Bahamian public shareholders, will not see twenty-foot equivalent units (TEU) and other volumes recover to pre-COVID-19 levels until 2022 at the earliest.
Illustrating the heavy toll inflicted by the pandemic on multiple sectors of the Bahamian economy, Mr Bethell disclosed: "A big vessel came in today with 38 cars. Usually they're at the 300-400 car mark. Prior to COVID-19 the average amount of cars on a vessel used to be 300-400, and the vessel today had 38."
He revealed that vehicle import volumes for APD's 2021 second quarter, which covers the three months to end-December 2020, were down by 44 percent compared to the prior year's COVID-free numbers. The drop-off also afflicted the cargo port's other categories, with TEU volumes down 18 percent year-over-year and bulk tonnage off by eight percent.
The impact quickly showed in APD's half-year revenues, which at $14.2m for the six months to end-December 2020 were down by $3.1m or 18 percent compared to the prior year COVID-free period's $17.3m.
Earnings before interest, taxation, depreciation and amortisation (EBITDA) dropped by 18 percent, too, falling from $8.988m to $7.371m. Total comprehensive income was off nearly 36 percent, down at $3.477m as opposed to the prior year's $5.424m.
However, Mr Bethell said APD was "just slightly, marginally" ahead of its internal budget forecasts as it was able to slash its expenses in proportion to the top-line fall, cutting them by $1.5m or 18 percent to lower them to $6.85m.
"Our volumes remain below the pre-COVID volumes, and we expect that this will be the case for the remainder of the 2021," Mr Bethell told this newspaper. "We are currently trending ahead of budget and that is related to the construction projects at the Pointe, Global Port Holdings/Prince George Wharf, the American Embassy and GoldWynn."
APD's results and import volumes provide a good indication of the Bahamian economy's health and level of commercial activity, and its top executive yesterday attributed much of the decline to reduced flows associated with the tourism industry due to the slower-than-expected rebound of that sector and the major hotels.
"The hotels with low occupancy and air travel globally being down everywhere, travel confidence, while it will rebound I don't think it will rebound prior to the end of this financial year on June 30," Mr Bethell said of tourism activity.
Food and other imports associated with the domestic economy have not declined, the APD chief adding: "Things are moving in the private sector, lots of persons are being called into their job as opposed to working remotely, and there's more activity on the streets compared to three to four months ago, but that has not translated into the tourism numbers we are accustomed to seeing.
"The Pointe has been able to complete their property; we've seen their FFE volumes coming in; furniture, fixtures and equipment, so that has been an offset. On the upside there are volumes coming in for construction projects. That is really on the bulk side, including rock, sand, cement and steel.
"I understand the rationale behind the Government encouraging consumers to buy Bahamian so we can at least jump start that (domestic) part of the economy."
Asked when APD's cargo volumes were likely to recover to pre-pandemic levels, Mr Bethell replied: "I would say probably in 2022. I would say we would begin to move in that direction in the latter part of this year, but I don't think we will be to pre-COVID levels any time before 2022. If it happens sooner that would be great.
"We have not taken any drastic measures to cut back on repairs and maintenance for the facility and equipment. We need to ensure they continue to meet the standards that have been set from a corporate level."