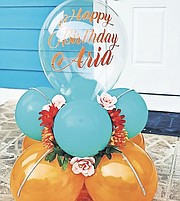 By ALESHA CADET
Tribune Features Reporter
acadet@tribunemedia.net
THE last nine months have been taxing on all of us. And it's been extremely important for us to find new ways to stay positive for our mental health.
One method Blaire Percentie is using to keep herself feel encouraged is prayer. Another way, she told Tribune Woman, is through small business support groups.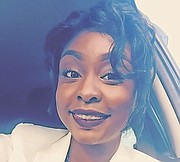 "I must say, being apart of these groups have kept me aligned with my purpose as a small business owner and I have learned a lot of things that I can do to keep my small business afloat during these unprecedented times," she said.
A teacher by profession, Blaire is also the proud owner of a fairly new business called Lulu's Sugar Rush. The Exuma native said her company specialises in party machine rentals and gift boxes, as well as balloon arrangements, which are her top sellers.
"Lulu's Sugar Rush is named after my late sister London Percentie, also known as Lulu. She passed away due to a rare disease at the age of seven," she said.
"Before starting, I was lost as to which direction I would go in. After expressing my sentiments to a friend, I was advised to pray about it. I took the advice of my friend and suddenly I just grew a liking for things related to celebratory events. Thereinafter, I decided to do research, and fortunately, with constant research, I was able to narrow down my focus and form the niche of my business."
As new business owner, Blaire said she loves networking with others.
"I was able to meet other entrepreneurs in this field of service who were nice enough to guide me on how to start my business and keep it afloat," she said.
Out of all of the services she provides, Blaire said the balloon arrangements are her favourite, as they challenge her to be creative.
"Specifically for the balloon arrangements, the one thing that makes me stand out from the rest of the balloon artists is that "I try to use the most unexpected and unconventional things to incorporate into the arrangements. I found myself using neckties, sequenced trimming, feathers, embellishments and flowers," she said.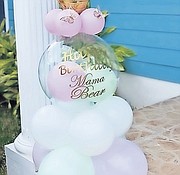 Blaire admits that while some days she feels very motivated, on others it can be challenging to soldier on.
However, she says the good has outweighed the bad during this unique time, and in spite of the challenges she has faced, she is staying positive and believes better days are ahead for her and her fellow small business owners.
"I have had many returning customers and this makes me very motivated as a small business owner. It gives me reassurance that I am satisfying my customers and it catalyses my urge to become better at what I do," she said.
"This year I decided to add to my line of products. The end of this month I will be launching a new product called 'stuffaloons'.This is another creative way of presenting gifts to loved ones where the customer can place tangible items like chocolate strawberries, money, clothing, teddy bears and clothing inside a large balloon," she said.