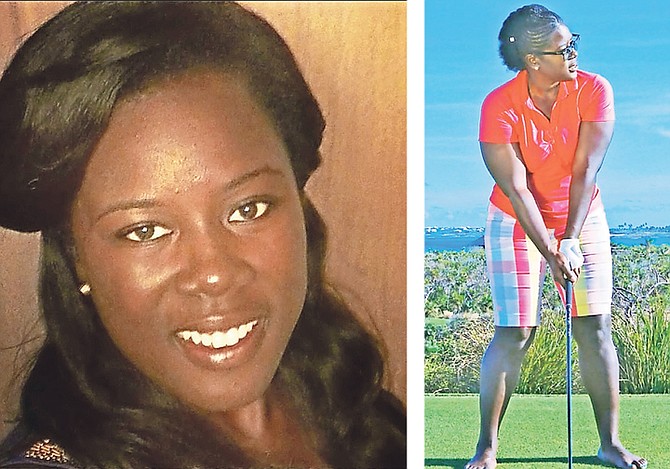 By BRENT STUBBS
Senior Sports Reporter
bstubbs@tribunemedia.net
For the next four years, the Bahamas Professional Golfers Association will be headed by its first female president - Racquel Riley.
Riley, one of three Bahamian female professional golfers, was elected to the top spot on January 5 after serving previously as the secretary under the presidency of immediate past president Chris Lewis.
"We all had a change of direction for the BPGA and the other executives came together and decided to appoint me as the new president and secretary," Riley said.
Already, her first vice president Lemon Gorospe, the director of golf at Albany, has demitted office for personal reasons. Glenn Pratt is executive director and Keno Turnquest is the treasurer. Riley, however, said they are hoping to add veteran Grand Bahamian Vernon Lockhart to the executive team.
"We're here to stay and make it happen," said Riley about the group of over 40 professionals, active and inactive, whom they will serve.
"We believe we have the right team. We just have to keep moving. We have the right plans and we intend to keep on moving and stick to the plan until we get it right."
Riley, who for the past eight years has served as the assistant golf professional at the Bakers Bay Golf & Country Club in Abaco, indicated that she's not going to let anything deter her from her historic role as the first female president.
"It's definitely a momentous moment, not just to be a female, but to be the first female to take this step, is a little bit intimidating," pointed out the native of Grand Bahama.
"I won't be wrong if I don't say it because we all know it's intimidating being in what is called a 'gentleman's sport,' so it's something that I've taken on and would expect a lot of challenges. I look forward to conquering it. It's just another challenge that I feel I'm prepared for."
In 1996, Riley embarked on her junior golf career and she went on to play on numerous junior Caribbean Amateur Golf Championships (CAGC) national teams. At the time, she attended Freeport Anglican High School until she graduated in 1999.
From there, she spent four years at Hampton University, graduating in 2003. Like she did as a junior, she went on to represent the Bahamas at the CAGC and she was on the women's team that won for the first time.
After winning the Bahamas ladies national titles back-to-back in 2000 and 2001, Riley turned pro in 2003 right after she participated on her final CAGC team with Jameica Duncombe when the Bahamas again won the ladies' crown.
During her pro debut at home in 2015 when the Ladies Professional Golf Association's Pure Silk Golf Tournament was played at the Paradise Island Golf Club, Riley had to withdraw for reasons didn't disclose then
The 39-year-old mother said at the time, she was six months pregnant with her now five-year-old son, Riley Wells, but she didn't want to pass up on the opportunity to take on the line when her name was called on the tee.
"It was a challenging pregnancy and a challenging delivery," Riley recalled. "That's probably not where I should have been, putting myself in such a high risk at the time. But I just wanted to do it so bad."
Riley is now one of three Bahamian female pro golfers. The other two are Georgette Rolle and Alena Hutchinson. Duncombe was also a pro, but relinquished her status after she switched to develop her new career in nursing in Florida.
"I hope to bring a higher level of respect for the office that I hold and for women in particular," Riley said. "We know that association started off with a huge bang back in the 1960s with Roy Bowe and all those guys who blazed the way for us right now.
"And after a while, everything sort of fell off and it was revived back in the early 1990s and it fell off again. It was revived again in the early 2000s and now I'm hoping that we can stick around and see if we can get it right and be here for the long haul."
Among some of her plans is to create a golf Hall of Fame because she admits that there's a lot of great stories in the sport in the Bahamas that need to be told and who need to be recognized.
"We just had the passing of Jim Duncombe and even when I was a junior golfer in Grand Bahama, he had a huge impact on my career," she lamented.
"Every time I saw him, he always had incredible words of encouragement, so he's been a special addition to my golf career. So we definitely want to highlight people like him and not let their stories die with them. We want to give them the flowers while they are alive."
Another focus for the association is to get their pros the recognition that they need so that they can be respected around the world.
In November, the BPGA hosted its first National Championships, held in memory of Roy Bowe, at the Ocean Club Golf Club.
Riley was unclear when they will stage their next one, considering the challenges they are faced with the privately owned golf clubs in New Providence, Grand Bahama, Abaco and Exuma.
"Golf has just kind of closed up on us in the last ten years, so we have to work with the golf properties to get in some time to stage our events," she summed up.
"We're here to stay. The BPGA is here to stay and we have a whole lot planned for the future. We want to make a statement this time around."