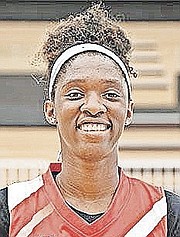 By BRENT STUBBS
Senior Sports Reporter
btubbs@tribunemedia.net
After a two-week break, Lashann Higgs and her Embutidos Pajariel Bembibre PDW women's basketball team returned to action in the Spanish Professional Basketball League last night.
But in their home game at the Bembibre Arena in Bembibre, Spain, they lost 74-61 to Cadí La Seu to drop to 4-16 for 14th place in the standings, just ahead of Nissan Al-Qazeres Extremadura, who is 3-16 and Quesos El Pastor Zamarat, who bring up the rear at 3-18.
"It wasn't quite what we expected since we've been working so hard in practice for the past two weeks," Higgs said. "Sometimes it doesn't end the way you like, so you just have to keep on pushing."
The 25-year-old 5-foot, 9-inch shooting guard had a side high 17 points and still leads Embutidos Pajariel Bembibre PDW with an average of 15.6 points, 4.8 rebounds and 1.2 assists per game.
"I feel I had a pretty solid performance," said Higgs, a native of Harbour Island, Eleuthera.
"Every game, no matter how bad or how well I shoot, I always feel like there's something I can work on.
"I will watch the film to see where I can get better passes or shots so that I can continue to help this team in whatever way I can."
One thing is for certain. Higgs said she needs to be more aggressive.
So should Embutidos Pajariel Bembibre PDW, who watched as Cadí La Seu built on a 19-12 lead at the end of the first quarter to extend it to 46-32 at the half.
Although they out-scored their opponents 18-10, they still trailed 56-50 going into the fourth and final quarter.
"It started off pretty good, but the game started to slip away early from us mid-way in the second quarter when they made their runs," Higgs pointed out. "We were just having a hard time breaking through the points deficit."
This is Higgs' initial pro season after she graduated from the University of Texas in 2020. She said the season so far has been an adjustment for her as she gets used to the physicality of the pro players.
"So it's just a matter of progressing through that physicality and becoming more efficient," she stated. "Through the season, it can be mentally and physically taxing. But you just have to take good care of your body and just continue to work hard, bring what you learn in practice into the games."
Higgs, however, said with Spain on an 8pm curfew because of the spike in the coronavirus pandemic, she remains home when she's not at practice or at a game. She devotes a lot of time to staying in touch with her family and friends in the Bahamas and the USA, particularly in Texas where her adopted parents reside.
If there's anything that she admits that she misses being away from home, it's eating conch salad or any dish that contains conch.
She noted that she's in Spain to take care of business and that right now is her first priority, even though she would prefer to see her team win more games.
Higgs and Embutidos Pajariel Bembibre PDW are scheduled to be back in action on Friday when they head on the road to face the third ranked SPAR Citylift Girona, who are currently 18-2.
"Just as you embrace the blessings, you have to embrace the struggles," Higgs summed up. "So we will continue to work at it. Hopefully, we will get better as we go along."