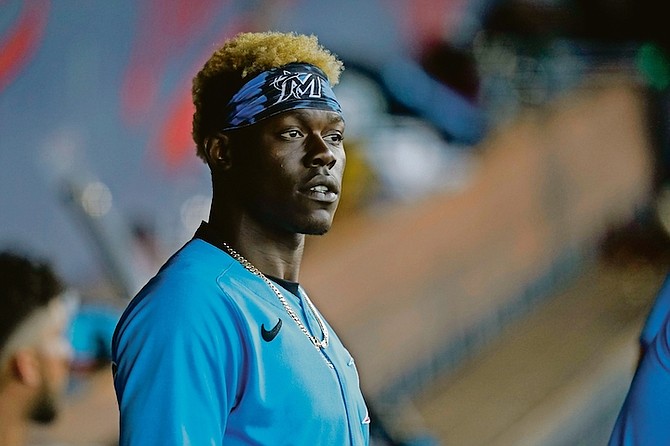 By RENALDO DORSETT
Tribune Sports Reporter
rdorsett@tribunemedia.net
Jasrado "Jazz" Chisholm continues to make Bahamian history in Major League Baseball.
Chisholm achieved one milestone in 2020 when he became the seventh Bahamian to play in the MLB and will add to his résumé by becoming a starter on opening day for the 2021 season.
The Spring Training position battle at second base concluded yesterday when Marlins' manager Don Mattingly and general manager Kim Ng told the organisation's No.4 prospect that he would be named the starter.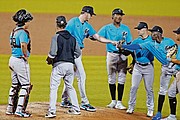 "The emotions ran wild," Chisholm said during a Zoom call. "It was just like getting another callup, but this time winning an Opening Day job, which I feel like it's a big accomplishment to have the Opening Day job. I feel like it's another day of getting a callup, you know what I mean? It's the same butterflies going through your stomach as soon as they tell you. ..."I can't thank them enough for the opportunity they gave me to go out there and show up this spring, but, you know, I'm ready."
Miami will host the Tampa Bay Rays in the season opener, Thursday, April 1 at 4:10 pm in Marlins Park.
"It feels great when everybody believes in you," Chisholm said. "I know I already have a lot of confidence, but it gives you the confidence to where it's almost cockiness."
In his debut MLB season, Chisholm started 17 games, 11 at second base.
"Jazz just needs to get better every day, I think that's the way we look at it," Mattingly said during a Zoom call. "He's not the player that he's going to be, and he just needs to work, continue to get better, listen to his teammates -- those guys will help him in there. The coaches will be helping him continue to develop in little areas. So it's really about, 'This is the start of it. Now we have to go play, and we've got to continue to get better.' If you look at it simply like that as a player, you're not concerned so much about what happened yesterday or the day before or if you're the guy or you're not. It's really, 'I just have to keep [getting] better.'"
The Marlins concluded Spring Training play in the Grapefruit League yesterday with a 10-2 win over the New York Mets to finish 14-5.
Chisholm went 1-3 and concluded his Spring Training Chisholm hitting .268 with three home runs and four stolen bases.
After a slow start at the plate, Chisholm finished strong and presumably won the job over the course of the final 11 games where he went 9-23 with seven runs, two home runs, four RBI, four walks, just six strikeouts, and four stolen bases.
Prior to Spring Training, Ng said the performance from the open competition between Chisholm, Diaz, and Jon Berti, would determine who wins the starting nod headed into the 2021 season.
Chisholm's main competitor for the starting second base job, Díaz, hit .059 with one double, one triple, two RBI, five walks and 13 strikeouts in 19 Grapefruit League games. He was optioned to AAA Jacksonville to begin the season.
During Spring Training, Ng also touted Chisholm's ability to make a successful transition to second base.
"He's a shortstop by nature, that's pretty much what he's been in whole life, but, obviously we have this position open at second base so we just need him to get prepared there," Ng said of Chisholm, "In terms of what he's shown us there it has not looked like its been a hard transition for him. He just has tremendous tools - great agility, great feet, very quick twitch muscles and it has not looked like him moving to the other side has given him any problems."