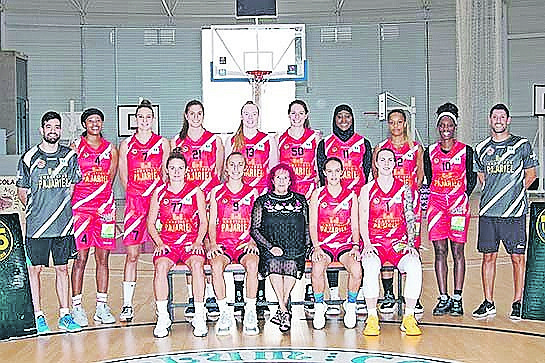 By BRENT STUBBS
Senior Sports Reporter
bstubbs@tribunemedia.net
DESPITE not making it to the playoffs, Harbour Island native Lashann Higgs said she was still pleased with her rookie professional basketball season with the Embutidos Pajariel Bembibre PDM team in the Spanish Women's Basketball League.
Embutidos Pajariel Bambibre closed out regular season play on Saturday night with a 78-71 loss to fifth-ranked ASEFA Estudiantes as they suffered their fourth straight defeat, leaving them in 14th place in the team standings at 8-22.
"We always go into a game expecting to win, but sometimes that is not the case," Higgs said of the loss. "I am very proud of how much my team and I have grown over the course of the season. We have learned some valuable lessons."
Higgs, the team's most valuable player, played 33 minutes but ended up as the second best scorer for Embutidos Pajariel on the night.
The shooting guard connected on 3-for-7 from the field for a 42.9 shooting percentage, was 1-for-3 from behind the three-point arc for 33.3 percent and made five of her seven free throws for 71.4 percent.
She walked off the court after pouring in 14 points, stealing four balls, grabbing a pair of rebounds, and dishing out as many assists.
Higgs turned the ball over three times, while playing with three fouls. It was the team's second highest individual scoring output in the game as Russian forward Julie Gladkova posted 20 points and four rebounds off the bench.
American guard Arina Carter led the winners with 18 points, three rebounds, three steals and two assists for ASEFA, who improved to 18-12.
"The season was okay. We had a great time playing with each other," Higgs said. "We all would have loved to win some more games, but that just wasn't the case. We have improved tremendously as the season went on. I'm proud of our team."
The team would have been proud of Higgs' accomplishments as well as she earned another Player of the Week honour and finished as the third leading scorer in the league with an average of 5.8 points per game.
She also averaged 4.2 rebounds and 1.1 assist. "I thank God for blessing me with the opportunity to play this year," Higgs said. "Getting through the season injury free and COVID-19 free was a blessing. I'm grateful."
The 2019 graduate of the University of Texas Lornghorns will now take a much-deserved break over the summer and assess her future plans.
"I will not be making any decisions as yet," he stated. "I just want to enjoy family time and then get back to working on my game and trying to keep improving."
The 25-year-old, who wore No. 10 on her jersey, is just one of few female Bahamian basketball players who would have played in the professional arena.
Her goal is get to the Women's National Basketball Association (WNBA) where Grand Bahamian Jonquel Jones is holding court with the Connecticut Sun.
The 25-year-old 6-6 centre played collegiately for Clemson and George Washington.
She followed Waltiea Rolle, who broke the ceiling as the first Bahamian to play in the WNBA in 2014 with the Seattle Storm.
The 30-year-old, 6-6 centre who attended HO Nash, CR Walker and Westbury High School in Houston, Texas, played for the University of North Carolina Tar Heels.
If she doesn't get a call from any of the 12 teams to be a part of the league's 25th season that is tentatively set to start in May, Higgs said she will just focus on her future in the European League.
In the meantime, she intends to spend some time at home with her family on Harbour Island and in Texas.
While she began playing with the Harbour Island All-Age School, Higgs was recruited by Olympic triple jump bronze medallist Frank Rutherford and his foundation in Houston after the loss of her mother, Romilly Higgs, in 2013.
She went on to play for Cedar Ridge High School and was adopted by George and Jackie Washington, who helped to nurture her basketball career over in Texas.