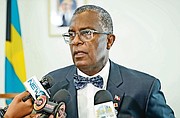 By TANYA SMITH-CARTWRIGHT
tsmith-cartwright@tribunemedia.net
PROGRESSIVE Liberal Party chairman Fred Mitchell has advised his new colleagues to stick to important national issues and refrain from bashing the former government when making contributions in Parliament, thanking the Governor General for the Speech from the Throne.
Mr Mitchell, also Minister of Foreign Affairs and Public Service, made the remarks yesterday as he returned home from Rome where he attended a CARICOM Foreign Ministers Conference.
"For many of the younger politicians, newly elected to the House of Assembly, this will be the first time that they are at bat," he said.
"Today begins the ritual of the debate from the Speech from the Throne thanking the Governor General. The rookies will give their maiden speeches today (Monday) and in the coming days. Let us wish them well.
"I hope that the debate will be about what is to come and not dwelling on the faux pas of Hubert Minnis and his band of merry men and women in the past. We came to government and we are the government now and people look to us for answers to their problems," he said.
This comes after Prime Minister Philip "Brave" Davis, while delivering a 2021/2022 supplementary budget statement in Parliament last week, lambasted the Minnis administration for what he called a "totally disgraceful" attempt of Bahamas Power and Light to secure a rate reduction bond (RRB).
He noted that more than $20m has been spent with still no bond placement after four years.
Prime Minister Davis said: "I am advised that, due to the delays in the offering, issuing the bond now would increase electricity costs by as much as 20 percent.
"During a time when many Bahamians are still rebuilding their communities from Hurricane Dorian, at a time when many persons are still unemployed due to the impact of COVID-19, at a time when many Bahamians have little or no financial recourse, a 20 percent increase in the cost of a basic necessity such as electricity simply cannot be justified.
"To add insult to this injury, the cost to-date facing this pot of gold at the end of the proverbial rainbow, the cost associated with this floundering attempt to obtain the bond, I am advised, is far in excess of $20m."
According to Mr Davis, the Christie administration had left instruments in place to the issuance of the RRB at a cost far less than $20m. That was only one instance in that communication where Mr Davis identified what he said were inadequacies by the former administration.
As communications are not debates and there is no point of order to stand on, Members of Parliament Iram Lewis and Kwasi Thompson were both asked to take their seats when they tried to defend the former administration.
Continuing to advise his new PLP colleagues to stick to the issues that have left Bahamians wanting, Mr Mitchell said there seems to be "profound dissatisfaction" in the lives of many citizens.
He said: "We have high hopes for them (new MPs)… a disciplined performance, not too long winded and striking all the points in the blue print, the plan which the PLP ran on in 2021 at the general election.
"I told a friend the other day that in my political history, the demands that I am getting now are unprecedented. If you were to examine my inbox it would seem that there is not one happy person with their lives in this country. It appears that there is a deep, profound dissatisfaction with people's lives, careers and their states of being."
He said the widespread "dissatisfaction" to his surprise, includes the youth of the nation.
"This seems to include young people who should be happy-go-lucky and carefree. If this state of unhappiness is true, then we must do something about it, because we must know that this is unsustainable. We have to figure out what to do to fix this problem."
Mr Mitchell asked the MPs to emphasise hope and not despair.