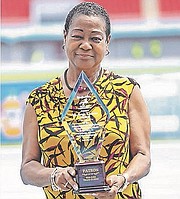 By BRENT STUBBS
Senior Sports Reporter
bstubbs@tribunemedia.net
BEFORE she officially retires as principal of St Augustine's College in December, the Athletic Department is planning to hold "Big Red Machine Madness" in honour of Sonja Knowles on Saturday, November 27.
The event, according to Jason Edwards, the head of the Athletic Department, is scheduled to begin at 10am and will be designed for the students to participate in a series of sporting activities, including a home run derby in softball, a three-point shootout in basketball and a mixed gender 4 x 400 metre relay in track and field.
It's designed for competition between the four houses at SAC – Seton, Alcuin, Bernard and Leonard – in the bantam, junior intermediate and senior boys' and girls' divisions.
"We wanted to get the kids back involved in sports and we thought the best way to do it was through our inter-house competition," Edwards said.
"At the same time, we thought it would only be fitting to have the events staged in honour of our principal Sonja Knowles before she retires. We know that sports has been a big part of her life here at SAC and we didn't want her to leave without showing her our appreciation.
She has been involved in every aspect of sports in and off the campus at St Augustine's College."
Knowles, a former student, began her teaching career in 1975 at SAC in the Mathematics Department.
She was eventually elevated to head of the department before assuming the role as vice principal under the late Leviticus 'Uncle Lou' Adderley.
After the death of Adderley, Knowles was again elevated, this time as principal.
During her tenure in that role, Knowles became the long-time chairman of the Sports Committee for the Bahamas Association of Independent Secondary Schools (BAISS) and she was a cheerleader for the Big Red Machine in many local and international events.
Knowles, a former perennial contender for the women's national bowling title at the defuncted Village Bowling Lanes, will retire in December and be replaced by Marici Thompson, another former student and former guidance counsellor.
Thompson will take over the reins in January.
On Saturday, March 20, Knowles was honoured along with coach Dianne Woodside-Johnson for their contribution to the Big Red Machine's sporting programme by the Red- Line Athletics, coached by Tito Moss, at their inaugural track and field meet at the Thomas A Robinson National Stadium.
During the "Big Red Machine Madness," Edwards said instead of having competition in the regular divisions – junior and senior – they have decided to get more participation from their athletes by extending it from the bantam to the senior division.
"We want to get kids involved to show their appreciation to Mrs Knowles," Edwards said. "She loves sports and putting this in her name is just our way of showing her our appreciation from the Athletic Department."
The sporting event will conclude with the 4 x 400m relays, featuring two boys and two girls on each team. Since introduced to the school track and field programme, the Big Red Machine has been a force to reckon with in the exciting relay competition.
The highlight of the sporting field will be a DJ competition between DJ Mani and Zyon the DJ, two students of SAC, who have been crowd pleasers whenever they perform for their peers. "I expect that the kids will come and participate. It should be very competitive because that's the nature of our kids," Edwards said. "Already, the kids have been trash talking about it, so I think she will love the effort that they put forth.
"I expect the support from the students and parents, especially since we haven't done anything in quite a while because of COVID-19. I think it should be a lot of fun, especially with the music element because we know that not all of the kids are into sports. At least they will have something to entice them."
The activities are open to the general public.