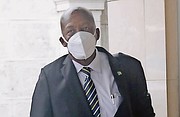 By KHRISNA RUSSELL
Tribune Chief Reporter
krussell@tribunemedia.net
PUBLIC Works Minister Alfred Sears said he has requested "turnover notes" from Water & Sewerage Executive Chairman Adrian Gibson to view the state of the corporation.
While he said he did not want to single out Mr Gibson and WSC, Mr Sears said he will be reviewing the activities at all government entities under his remit.
Mr Gibson has not formally resigned from the position, but according to Minister Sears, he has verbally indicated that he has not been in office since the general election last month and has no intention to return.
The Long Island MP came under fire in late August after it was revealed in leaked documents that a company, Elite Maintenance, was awarded contracts worth hundreds of thousands of dollars by WSC. It was claimed that the director of the company has the same name as a person with whom Mr Gibson had earlier had a relationship.
Asked about it on Wednesday following the opening of Parliament at Baha Mar, Mr Sears explained: "Well with respect to the Water & Sewerage Corporation, I called Mr Gibson myself and he indicated to me that he has not been in the office since the election, and he has no intention. He has been very cooperative.
"He has committed to providing turnover notes for me and I spoke to him today (Wednesday) and he has indicated that commitment will be forthcoming."
Asked if there were plans to probe the contracts facilitated to Elite, Mr Sears said: "I would not want to prejudge anything. Right now, I am asking for turnover notes."
Asked if he would review Mr Gibson's actions during his four-year tenure at WSC, Mr Sears said: "The thing is we have to review what has happened at all of the corporations and I would not simply single that one out.
"I know the issue is in the public domain but when I assume a position I have to come with an open mind and not come with a preconceived notion. My job is to get proper turnover notes, so I know what is the state of play in the corporation and not come with any preconceived notion.
"Once we have everything it's going to be reviewed so that we know how to best serve the interest of the Bahamian people."
He added that up until the time of the interview, he had not received a formal letter of resignation from Mr Gibson.
"He has indicated to me that he has no intention (to return) so he has indicated an intention and that intention would have an effect because it's been expressed to me," Mr Sears said.
Mr Gibson did not respond to messages or calls yesterday.
In a statement released in August, Mr Gibson denied any beneficial interest or any interest at all for that matter in Elite.
However, he did not make clear whether Alexandria Mackey, who is listed as a director of and who signed as "contractor", is the same Alexandria Mackey who he listed as his fiancée in a 2020 police report, which was also leaked.
In a separate statement issued by WSC General Manager Elwood Donaldson it was said that Alexandria Mackey acted as legal agent for the company.