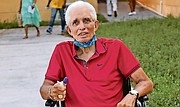 By BRENT STUBBS
Senior Sports Reporter
bstubbs@tribunemedia.net
MANY would remember J Barrie Farrington for his stellar work as a hotel executive, but he was revered by others for his tremendous accomplishments as a rugby, baseball, softball and tennis player, mentor and a friend of sports.
Farrington, who eventually became one of the most prolific sports executives, died on Wednesday morning at the age of 85. He leaves behind wife Susan, sons John B, Robert Bruce and Andrew Scott Farrington and daughter, Robyn Elizabeth.
All of Farrington's children followed in his footsteps as tennis players with John B and Robyn Elizabeth winning men and women national titles in the Bahamas Lawn Tennis Association.
They both went on to play for the Bahamas as members of the Davis Cup for men and the Fed Cup for women. John B, who is also actively involved in the sport as a professional coach, served as a long-time captain for the Davis Cup team.
Following his exploits on the field as an athlete, Farrington ventured into the front office where he served as the president of the Bahamas Lawn Tennis Association for two different tenures, first from 1974-1976 and again from 1986-1992.
During his tenure, Farrington contributed tremendously to the growth and development of tennis in the Bahamas, having brought the prestigious Marlboro Bahamas Men's Open Professional Tennis Tournament to Paradise Island.
In addition to stamping his signature on the trademark event that drew some of the top players in the world here, Farringtron also headed the BLTA when the Bahamas switched from playing under the Commonwealth flag to the Bahamas at the prestigious Davis Cup competition.
Farrington also made his philanthropic contributions to tennis and fully supported the BLTA.
He was well-liked and respected by all who came in contact with him. Some of those persons, who followed in his footsteps as administrators, shared their experiences and memories of the Bahamian icon.
Mickey Williams called Farrington a "visionary leader" and a true friend to tennis.
"I actually served under him in several capacities until succeeding him as president in 1992," said Williams, who served as president from 1992-1995 and again from 1986-92.
"He was a very accomplished sportsman and national team player in several sports - baseball, rugby, softball and later tennis, a sport in which he won scores of national championships in singles, doubles and mixed in many age categories."
Williams also recalled Farrington's generosity where he donated to many local charities, but his love was tennis and he provided many of his trophies for the BLTA to use in future national championships with an understanding that the BLTA could "raid" his trophy cabinet for as many additional trophies as they wanted.
Immediate past president Darnette Weir, reminiscing on her interactions with Farrington, considered him a great tennis giant, who was truly a wonderful person.
"Mr J Barrie Farrington supported my administration wholeheartedly during my tenure as BLTA president," she said.
"Mr Farrington always found the time to send encouraging emails consistently about the things he loved that were happening in tennis. "He gave unselfishly to the growth and development of the sport for many years. What I admire most of all is his strength and tenacity to give of himself despite the vicissitudes of life. Mr Farrington will truly be missed. May his soul rest in peace."
And current BLTA president Perry Newton stated: "Mr Farrington was a very nice and caring gentleman. He cared about people and he cared about tennis," Newton said.
"This is a tremendous loss for the tennis community and for the entire Bahamas. We extend condolences to his wife and children as we pray for their comfort during this difficult time."
From his days as a rugby player, Allan Ingraham recalled Farrington as a "hard, tenacious, relentless, fearless player, who helped to inspire him, although he decided to play American football instead.
"I played on three Bahamas national rugby teams and ended up with an offer from Cardiff professional Welsh Rugby team," Ingraham said.
"American football was easy. I did all the same hitting and eagerness in rugby without pads, so when I donned American football gear, I was running through opponents."
Farrington, according to Ingraham, was his idol on the field and he had players like Hayden Hosea Adderley and Jesse 'Butkus' Ferguson to help fine tune him and increase his volatility to go on to try out for the Washington Redskins.