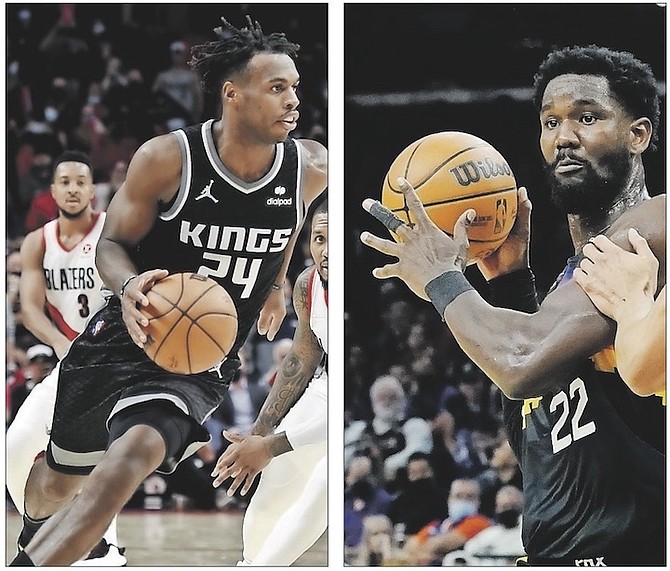 Buddy Hield moved closer to a franchise record, Deandre Ayton fell short against the reigning MVP and Kai Jones still awaits his regular season debut following opening night for Bahamian players in the NBA.
Hield finished with 17 points off the bench in the Kings' 124-121 win over the Portland Trailblazers Wednesday night at the Moda Center in Portland, Oregon.
Hield shot 5-9 from the field, including 4-7 from three point range and 3-4 from the free throw line. He also added six rebounds and two assists in 31 minutes.
Hield's transition three early in the fourth quarter not only gave Sacramento a 103-85 lead, but moved him into a tie with Peja Stojakovic for the Kings' franchise career record of 1,070 threes during his tenure with the organisation.
"It's a blessing, coming from where I came from, being a guy from the Bahamas I never thought I would come here and have a chance at a Peja Stojakovic record," Hield said, "Peja has taught me a lot, I'm blessed, and I just want to keep putting my name in the Sacramento history books. I can't wait to see what I have in store for this year and many years to come."
The Trail Blazers were coming off a winless preseason, losing all by an average of 23.7 points.
Last season, Hield averaged 16.6 points, 4.7 rebounds and 3.6 assists per game. He also ranked fourth in the league with 2,433 minutes played and set a new career high for made threes in a single season with 282.
The Kings will host the Utah Jazz at home at the Golden 1 Center in Sacramento, California tonight at 10pm local time.
Deandre Ayton and the Phoenix Suns opened their season with a 110-98 loss to the Denver Nuggets at the Footprint Center in Phoenix, Arizona.
Ayton made his first four field goals of the game and scored 13 points in the first half, he finished with 15 points and six rebounds.
It was Ayton's first game in Phoenix since contract negotiations between the franchise and the fourth year centre reached an impasse. Ayton, 23, was eligible for a five-year, $172.5 million extension that could have reached as much as $207 million with incentives, but without a deal in place by the October 18 deadline, he can enter restricted free agency next summer.
"One thing about me, throughout my whole life, I've always learned to control what I can control," Ayton said following the loss to the Nuggets, "At the same time, obviously I'm disappointed, but I'm still trying to get us back to the finals. I've still got to represent the team and myself as well. I'm just a competitor, man. Just like to compete to the best and every time I'm in between those lines, that's what you're going to see out of me. Nothing else."
The crowd at Footprint Center cheered loudly for Ayton when he was introduced prior to the game.
"If you've been following me for a long time, I've always hit the rock bottom," he said, "It's always something up with me, but for me, to be honest, I played to the best of my ability when my back is against the wall. I know the true meaning of professionalism and when I'm between them lines, nothing else matters."
Ayton appeared in 69 of the Suns' 72 games in the regular season and averaged a double double for the second consecutive campaign - 14.4 points and 10.5 rebounds per game.
The Suns will travel to face the Los Angeles Lakers tonight at Staples Center in Los Angeles, California at 10pm local time and broadcast live on ESPN.
Kai Jones did not play in the Charlotte Hornets' 123-122 win over the Indiana Pacers at the Spectrum Center in Charlotte, North Carolina.
The 19th overall pick in June's NBA Draft will have an opportunity to make his regular season debut tonight when the Hornets travel to face the Cleveland Cavaliers tonight at 7pm local time.