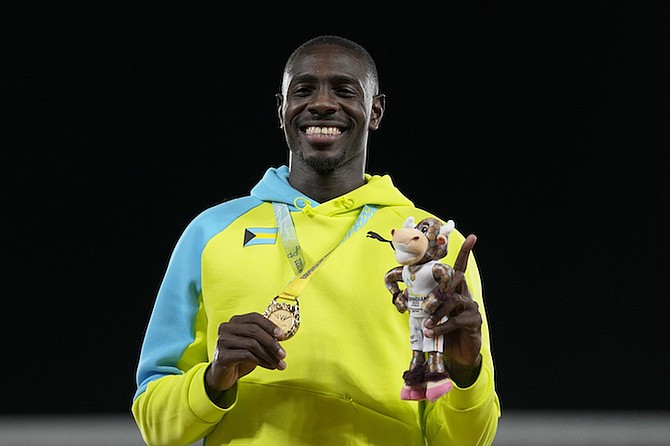 Photo Gallery
LaQuan Nairn wins gold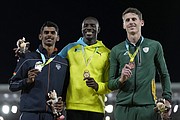 LaQuan Nairn has won gold for The Bahamas in the long jump at the Commonwealth Games in Birmingham, England. (AP Photos/Alastair Grant)
By BRENT STUBBS
Senior Sports Reporter
bstubbs@tribunemedia.net
BIRMINGHAM, England: As predicted, LaQuan Nairn turned his disappointment two weeks ago at the World Championships in Eugene, Oregon into Commonwealth Games glory as he emerged as the first Bahamian male long jumper to win the gold medal on Thursday night.  
In what could be described as one of the most exhilarating finals, Nairn lived up to his prediction as he edged out World Championship seventh place finisher Sreeshankar Sreehankar of India after they cleared the same height of 26-feet, 3 ¾-inches or 8.08 metres.
But on the countback, Nairn had the better series of jumps as he celebrated the Bahamas' first medal at the 2022 games before a jam packed Alexander Stadium, moments before the national anthem was played during the medal ceremony.
"It's just an awesome feeling. I can't believe that I am the first Bahamian male to win a Commonwealth Games long jump gold medal," Nairn said. "So it's so unreal. It's such a special moment for me and for the Bahamas."
After Jovan van Vuuren scratched his final attempt to hold onto the bronze with 25-8 ¾ (8.06m) on his second attempt, Sreeshankar also scratched his final attempt to settle for the silver. That left the door open as Nairn sealed the deal.
The 26-year-old Narin, who completed his collegiate eligibility at the University of Arkansas and is now on the professional circuit, closed it out with 26-6 2/3 (7.99m), but it didn't matter. He lived up to his prediction of gold, becoming the first Bahamian male athlete to achieve the feat.
It was the 11th gold for the Bahamas, adding to 15 silver and 12 bronze won since 1958 in Cardiff, Wales when it was the British Empire Games before it became known as the Commonwealth Games.
"It's just an amazing feeling. This was the best crowd that I ever competed before and I think was one of the things that helped to push me tonight," Nairn said. "I got one half of the goal completed and that was the gold.
"I still have some more meets. This is just my first year on the circuit, so I will go after the Bahamas national record. But it would be even special if I can go to Grand Bahama for the NACAC Championships (August 18-21) and do it in front of the Bahamian public. That would be special."
He was referring to breaking Craig Hepburn's national record of 27-7 ¼ (8.41m) that he established in Nassau at the Bahamas Association of Athletic Associations' National Championships at the original Thomas A. Robinson Track and Field Stadium on June 17, 1993.
Nairn, the second best qualifier with 25-11 (.90m) on Tuesday, opened the competition with 26-0 ¾ (7.94m) and followed that with 26.3 ¾ (8.08m) on his second attempt to surge into the lead before he scratched his third attempt.
"I met Sreeshankar for the first time at the World Championships and even though we didn't perform as we expected, we both came here to improve on our performances," said Nairn, who was 18th overall with a best of 25-7 ¼ (7.80m). "He's as really nice guy and he provided a lot of competition out there.
"But I just knew that this is my night. I predicted it and God gave me the ability to accomplish the feat," Nairn stated.
He opened the final two rounds with what appeared to be a big jump, but it was ruled a scratch. He asked to review the mark and pleaded his case, but to no avail. He responded with 25-8 ¾ (7.84m) on his fifth try.
Nairn thanked his parents Monalisa McKinney, his father Lourawls Nairn Sr, his big brother Lourawls 'Tum Tum' Nairn for their support as well as coach Peter Pratt, whom he called legendary. He also thanked his close friend Kaiwan Culmer, who provided him with some tips.
Not the type of person to celebrate, Nairn said he will go to the Games Village at the University of Birmingham where he will savour the moment,. He intends to come back and support the rest of Team Bahamas in a quest for some more medals before the championships are done on Sunday.