Photo Gallery
Bahamian teams in action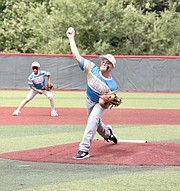 GOOD EFFORT TEAM BAHAMAS: Both Bahamian teams were eliminated in the International Bracket quarterfinals at the Babe Ruth League's Cal Ripken Baseball Major/70 World Series at the Ballparks of America in Branson, Missouri, yesterday. The event featured 28 of the top teams representing various regions across the United States and countries around the world. The Caribbean Region champions suffered a 7-0 loss to Taiwan and Freedom Farm lost 1-0 to Aruba. Photos: Rotary Club of East Nassau, Rotary After Dark
BRANSON, Missouri — Both Bahamian teams were eliminated in the International Bracket quarterfinals at the Babe Ruth League's Cal Ripken Baseball Major/70 World Series.
The Caribbean Region champions suffered a 7-0 loss to Taiwan and Freedom Farm lost 1-0 to Aruba yesterday at the Ballparks of America in Branson, Missouri.
The event featured 28 of the top teams representing various regions across the United States and countries around the world.
Aruba and Puerto Rico will face off in one half of the International Bracket while Taiwan and Mexico will meet in the other half.
The Caribbean Region teams were the gold medallists from July's Babe Ruth Regional Championships and the Freedom Farm team had an automatic bid into this year's field.
Freedom Farm opened with a 4-2 win over Australia followed by losses to Mexico (10-0), Puerto Rico (5-0) and Taiwan (10-2) in pool play.
The Caribbean Region champions suffered losses to Aruba (5-1), Taiwan (10-0), and Mexico (10-0) before concluding pool play with an 11-2 win over Canada.
Major/70 is a level of baseball beyond Little League but before professional baseball that allows players to play on 70-foot base paths with a 50-foot pitching distance. It also allows runners to take leads and steal for the first time, playing mainly by official baseball rules.