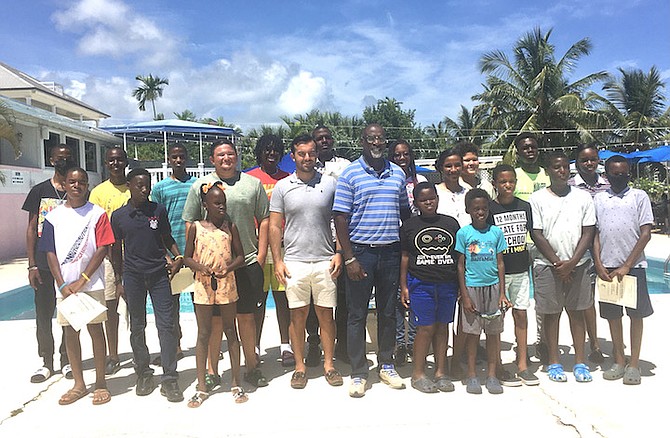 THE Bahamas Sailing Association (BSA) has just finished its summer sailing programme which took place over the past six weeks at the Nassau Yacht Club.
Almost 60 children aged 8-16 years old participated, the majority of whom were students from a number of Nassau's government schools. Most of them had never sailed before and the feedback we have received from so many of them is awesome.
The summer camp is an introductory 2 week course, teaching new comers all the basic skills required to handle a sailboat. Each child is designated a boat which they sail and look after for the duration of the course. Once they have acquired a basic level of competence, we allow them to race against each other out in Montagu Bay, which is always a popular highlight to the course! Our only entry requirement is that participants have basic swimming skills.
Several of them had so much fun, they repeated the course and had almost an entire summer of sailing, many commenting it was the best summer experience they'd ever had and would certainly recommend it to their friends.
"It's been tremendous to finally run our summer schedule since the last couple of years which have been badly affected by Covid restrictions and it's great to welcome so many new sailors to our program," said head coach Paul de Souza.
A presentation was held on Saturday August 20th, each sailor receiving a certificate for completion of the course. Mr Barry Wilmott, Regatta Desk Manager at The Bahamas Ministry of Agriculture and Marine Resources, presented the certificates.
"We wish to gratefully thank Mr Wilmott and his team for their invaluable continued support of our sailing programmes. We also wish to thank LGM Maritime Academy," de Souza said.
"Bahamas Charitable Giving Foundation and a host of private individuals who, through our "Sponsor a Child" initiative, have made this and our year round programs accessible to so many children who would otherwise be unable to afford the cost of attendance."
Quite a number of this year's summer sailors have already signed up for weekly lessons with our year round program which takes place after school and on Saturdays at The Nassau Yacht Club with the fall term commences on Saturday September 3rd. Anyone interested in registering or receiving further information are asked to contact the BSA at bahjrsailing@gmail.com.
Further info will be available on their Facebook page and website: www.bahsailingschool.org