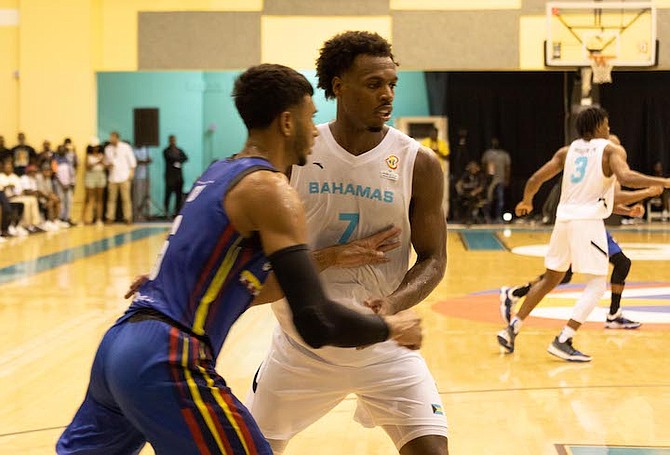 By BRENT STUBBS
Senior Sports Reporter
bstubbs@tribunemedia.net
Before a jammed-packed Kendal Isaacs Gymnasium last night, the Bahamas men's national basketball team dropped a heartbreaking 86-81 loss to Venezuela in the first game of their fourth window of the FIBA Americas World Cup Qualifier.
The Bahamas got a game high 20 points with 10 rebounds, four assists and three blocked shots from Kai Jones of the Charlotte Hornets in his debut for the team and Chavano "Buddy" Hield of the Indiana Pacers contributed 19 points with six rebounds, four steals and three assists. But when it counted down the stretch, Venezuela just wanted it a little more and it showed.
Holding onto a slim 84-81 lead with less then 10 seconds left, the Bahamas came out of a timeout and with the clamp on Hield, Mychel Thompson Jr made an errant pass that Venezuela picked up and secured the final basket at the other end to seal the deal just before the buzzer sounded.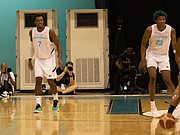 Bahamas head coach Chris DeMarco said it was just a miscommunication on their part that resulted in the turnover that sealed the fate of the team down the stretch.
"I thought we played a great first quarter. We had a pretty good lead in the first half," said DeMarco. "Things didn't go our way. They got some easy transition points. We took some tough shots and made some turnovers. We just have to learn how to close out close games."
Both teams committed a total of 14 turnovers in the game, but after holding a slim 17-16 advantage in rebounds at the half, the Bahamas finished one behind Venezuela, who won the battle on the boards, 34-32.
The difference in the game, however, was the mini spurts that Venezuela took advantage of in the second half.
Trailing by one (60-59) at the end of the third, Jones beckoned to the crowd to cheer on the team.
Venezuela, however, went on a mini 6-0 run to take an early 65-60 margin to start the period.
With eight minutes and 21 seconds on the clock, Hield and Franco Miller Jr converted a pair of free throws to get the Bahamas back into the game.
Hield hit another three-pointer to give the Bahamas a 67-65 lead at 8:05 as Venezuela was forced to call a timeout.
Tied a couple of times, Venezuela got two straight baskets to go up 73-69 with about five minutes left, but Jones answered with a three-pointer for a 74-72 deficit at 4:32.
With another mini-run, Venezuela again went ahead 78-72. Each time the Bahamas tried to get back in the game, Venezuela had an answer to stay ahead.
At 1:33, Jones ignited the crowd as he powered up for a layup pointing to the sky as Venezuela called a time out. He missed the free throw on a three-point attempt for an 82-78 deficit.
Venezuela, however, worked the ball around in the last minute as they milked the clock. Then on a steal from Hield, Thompson canned a three-pointer with 10.6 remaining for an 82-81 deficit.
With 5.4 on the clock Heissler Guillent hit 1-of-2 free throws on a foul by Hield for an 83-81 lead. Hield got another foul on Gregory Vargas, who also hit 1-of-2 free throws for Venezuela's 84-81 lead.
Out of their timeout, Thompson threw an errant inbound pass as Hield couldn't get free as Venezuela got the fast break and a dunk to end the game.
"I think in general, when it gets tough, we have to find a way to still compete," DeMarco said. "It just seems like it comes in waves when we turn over the ball and take a bad shot. We have to do a better job as a staff to get the right combination out there and go from there."
Team Bahamas will now head to Argentina to play their second game on Monday night and DeMarco said the coaching staff that includes Mikhail McLean and Moses Johnson won't be making any changes to the roster. He said they just have to be ready to compete.
While the NBA players led the way for Team Bahamas, Thompson, a former NBA player, finished with 12 points, while Kentwan Smith added 10.
Franco Miller Jr had six, Garvin Clarke Jr, in his debut, had five, Rashad Davis had four, Willis Mackey Jr had three and Lourawls 'Tum Tum' Nairn had two. Danrad Knowles and Kadeem Coleby didn't score and Jaraun 'Kino' Burrows didn't play.
For Venezuela, Garly Sojo and Michael Carrera had 17 points in the win. Windi Graterol chipped in with 12 and Nestor Colmenares helped out with 11.
Despite the loss, Jones said he was delighted to be playing in front of the Bahamian crowd that included Prime Minister Philip 'Brave' Davis, Minister of Youth, Sports and Culture Mario Bowleg and other government officials and a cross section of the Bahamian community.
"It was the best game of my life. From the jump, just coming in and seeing everybody out there, people who were there from when I was small, so it was just a blessing," he said. "I had a lot of gratitude for that.
"Unfortunately, we didn't get the win, but it was still a huge blessing to play at home in front of such great people."
Team Bahamas got off to a great start as Jones got free for a drive and two-handed slam dunk before Hield Jr canned a three-pointer to push the lead to 5-2. The Bahamas, using a combo of an inside and outside game, surged ahead 29-21 at the end of the period.
Using a smaller line-up with a three-guard rotation to start the second quarter allowed Venezuela to surge back for a 33-33 tie. But as the Bahamas got back to their bigger line-up, they managed to regain the momentum and a 42-35 lead at the half.
At that point in the game, Hield had led the scoring attack with 11 points, while Jones and Kentwan Smith, who played well in spurts, both had 10 points apiece. The Bahamas also held a slim 17-16 rebounding advantage.
Venezuela didn't have a player in double figures at the half, but Graterol paced their attack with eight, while Michael Carrera and Colmenares both contributed seven points.
With 7:14 into the third quarter, Hield slipped after Venezuela came back for 50-45 deficit.
At 6:12, Thompson drove the baseline for a layup and at 5:14, he canned a three-pointer for a 55-47 lead. At 4:41, Venezuela answered with two consecutive three-pointers for a 55-53 deficit.
At 3:47, they got another basket for a 55-55 tie and they took a 57-55 lead, prompting the Bahamas to call a timeout.
Jones picked up his third foul within the last minute, but Clarke was left wide open at the other end for a three-pointer to push the Bahamas up 60-59 before Jones got a sky rocket one-handed dunk off a missed Hield jumper at the buzzer, bit it was called off.
As they look ahead to Monday's game, Jones said they just have to have a "forward thinking mindset."
And just "put this loss behind them, learn from it, take care of the ball and be more organised in our sets and get good shots as an overall group and continue to stay positive."
He predicted that they will get it together.