THE 3rd Annual Baha Mar Cup was held this past weekend.
On the final day the young kids were invited to participate in a free tennis clinic.
The kids played with the tennis professionals and received tips from the world #3 in singles and doubles, Jessica Pegula, James Blake former world #4 and Milos Raonic, former world #3.
Bahamian tennis star Mark Knowles, former world #1 in doubles, has been instrumental in the organisation of the Baha Mar Cup since its inception.
Knowles also was on the court with the kids at the Baha Mar Racquet Club sharing his love of the sport.
Others who assisted in the clinic included coach Turner, Cory Francis, Afrika Smith, Jacobi Bain and Michael Major Jr.
The Bahamas Lawn Tennis Association (BLTA) joined in the event with many of the NTC "Play Tennis" kids taking part in the clinic.
The kids were inspired to dream big and to work hard to make those dreams a reality.
The tennis professionals who played with the youngsters were also very gracious signing balls and taking pictures with the aspiring tennis players many of whom are relatively new to the sport.
Despite the rain the kids had fun and went away with a positive tennis experience.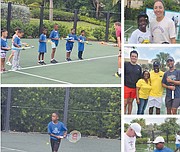 President Perry Newton noted that the impact the Baha Mar event has had on the young kids will be long lasting as they were able to meet and play with the tennis pros who were very kind and considerate in giving back to the children.
It is a wonderful work that Baha Mar Foundation is doing and the BLTA supports the tennis work and the community focus.
The Baha Mar Cup also featured an exhibition game on Saturday that was led by tennis stars American Andy Roddick former world #1, Australian Lleyton Hewett former world #1, James Blake, Mark Knowles and Jessica Pegula.
The pros played in an exhibition game with ESPN legend Cliff Drysdale providing live game commentary.
The matches were exciting and fun as Jacobi and Michael were also invited to play in an exhibition game.
The fundraising event is expected to benefit the Baha Mar Resort Foundation, supporting Mark Knowles Children's Tennis Initiative.
The 3rd Annual Baha Mar Cup has concluded but the work continues.
Congratulations to the entire Baha Mar team on a very successful event and we look forward to great things ahead.