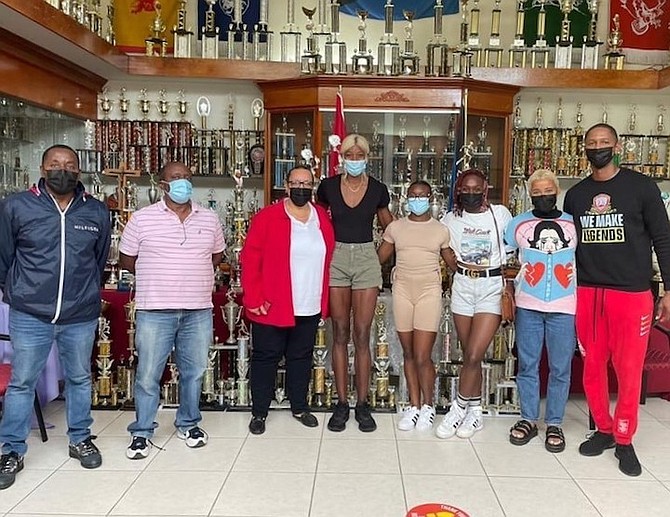 By BRENT STUBBS
Senior Sports Reporter
bstubbs@tribunemedia.net
As she has done every year when she returns home to relax and recuperate, "Golden Girl" Shaunae Miller-Uibo made a stop at her alma mater at St Augustine's College on Wednesday without any of the fanfare of the student population.
With the school in a virtual setting, Miller-Uibo spent some time with the faculty and staff as she reminisced about her tenure as a student and a Big Red Machine track and field athlete that ended in 2012.
Miller-Uibo, who went on to the University of Georgia for less than a season before she ventured into the professional ranks, is coming off her back-to-back gold medal in the women's 400 metres at the delayed 2020 Tokyo Olympic Games on August 6.
Two days after she had to settle for eighth place in the final of the 200m in her quest for the double, Miller- Uibo roared back to soar to the top of the podium as she lowered her Bahamian national and North American, Central American and Caribbean area record to 48.36 seconds to add to her triumph in 2016 in Rio de Janeiro, Brazil.
On her return to SAC, Miller-Uibo brought along three of her team-mates - British long jumper Jazmin Sawyers, American sprinter Lynna Irby and Trinidad & Tobago's sprinter Khalifa St Fort.
"Visiting SAC again, I had a great time speaking with the teachers," Miller- Uibo said.
"The students were not at school during the time, but I was able to show my teammates where I attended high school and they were amazed by the reception by everyone."
Miller-Uibo, 27, said she always receives a warm reception whenever she returns to SAC.
Marici Thompson, the new principal at SAC, welcomed Miller-Uibo home to her old stomping ground.
"It is an honour and great pleasure to have Shaunae back on campus," said Thompson, in one of her first official duties since replacing long-time principal Sonja Knowles when the school reopened in January. "Since her last visit to SAC in 2019, she has won another Olympic gold medal in the 400m.
"We are extremely proud of her and humbled that she would make visiting SAC a priority when she's in town.
"She also brought her friends, who are also world-class athletes, and that she would want them to see where it all began is a testament to the role SAC played in her development, not just as an athlete, but as a person.
"As Shaunae said to them yesterday, 'This is my home', and she is welcome home any time."
Unfortunately, Miller- Uibo's visit was low-keyed as students are not back on campus, so there was no ceremony for her to participate as she normally does by interacting with the student body and the Big Red Machine track team.
But over the next few days, Miller and her team-mates will be enjoying the festivities that the Bahamas has to offer, including their training sessions at the Thomas A Robinson National Stadium before they head back to Florida. "We are here training and enjoying the weather," Miller-Uibo said. "This is some of their first time here in the Bahamas, so I want to make it memorable for them by letting them enjoy the full Bahamian experience."
Voted as both the Ministry of Youth, Sports and Culture and The Tribune's Female Athlete of the Year for 2021, Miller-Uibo said as she prepares to return to her training site next week, her goal is to "remain healthy and enjoy the journey" as she heads into the World Athletics' World Championships.
The World Championships is scheduled for Eugene, Oregon, August 6-15 when the 6-foot, 1-inch Miller-Uibo hopes to avenge her defeat at the expense of suspended Bahrain's Salwa Eid Naser in Doha, Qatar, in 2019.
Hopefully Miller-Uibo can add a gold medal to her collection of two silver and a bronze from her previous three appearances in the sports' biggest event outside of the Olympics.
In addition to her silver in Doha, Miller-Uibo got a silver in 2015 in the 200m in Beijing, China, and bronze in 2017 in the 200m in London, England.