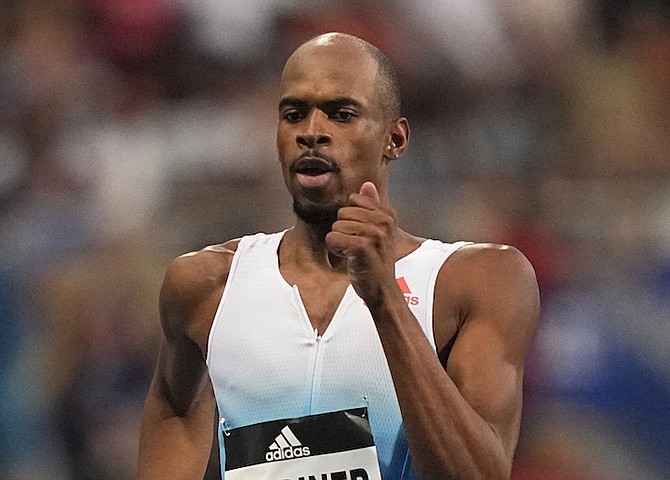 By BRENT STUBBS
Senior Sports Reporter
bstubbs@tribunemedia.net
Just days before the start of the World Athletics' 2022 World Championships, Bahamian quarter-miler Steven Gardiner has announced that he won't be able to defend his 400 metre title in Eugene, Oregon.
On his Instagram page yesterday, 'Speedy Stevie' Gardiner posted that a UTE tendon inflammation to his right foot will prevent him from representing the Bahamas at the championships, scheduled for July 15-24.
"Unfortunately, there will be no Eugene '22 for me," he wrote. "Devastated by the news, but I'm thankful to all the blessings in my career so far. "I am also thankful to my team around me for all the love and support during the process."
The 26-year-old native of Abaco, whose last race was at the Bahamas Association of Athletic Associations' National Track and Field Championships in June at the Thomas A Robinson National Stadium, said he will now focus on getting the necessary treatment so that he can be 100 percent.
"To the people of the Bahamas, my sponsors and my fans around the world, I'm sorry I won't be able to compete," Gardiner continued on social media.
"I wish my rivals good health and the very best. Thanks for the support."
Claude Bryan, his manager at On Track Management, confirmed Gardiner's absence from the team, revealing that Gardiner has been having ongoing issues and it flared up at the trials. Bryan noted that Gardiner subsequently got treatment for it, however, what he is experiencing now is beyond his pain threshold.
"It is accurate that Stevie will miss the Eugene World Championships. I notified the BAAA President and Stevie would have notified the Eugene team," Bryan said.
"He was at the hospital in Oregon and ordered to be booted due to inflammation of the right Achilles. He wanted to still give it a go, however, the pain and inconvenience got the better of him."
Bryan said Gardiner will be heading overseas immediately for treatment.
"We cannot say as of today, anything about his recovery, that is for medical to determine upon direct consultation with and inspection of Stevie," Bryan said.
"The decision to not compete was a tough one for Stevie, however, before he is an athlete, he is a human being, his health is the priority."
Gardiner, in running 45.32 seconds to take the tape at the nationals over Grand Bahamian Alonzo Russell, second in 46, was expected to be a part of a 16-member team that is scheduled to leave today for the championships.
Efforts to contact BAAA president Drumeco Archer and team head coach Rupert Gardiner were unsuccessful.
In addition to running the 400m in Eugene, Gardiner was also expected to be a key factor for the Bahamas mixed relay team with Alonzo Russell, Bradley Doreus, Wayna McCoy, Shaunae Miller-Uibo, Anthonique Strachan, Megan Moss, Doneisha Anderson, Javonya Valcourt and Janae Ambrose in the pool.
Gardiner was also named by the Bahamas Olympic Committee to a 28-member team, including 11 track and field athletes, for the Commonwealth Games, scheduled for Birmingham, England, July 29 to August 7.