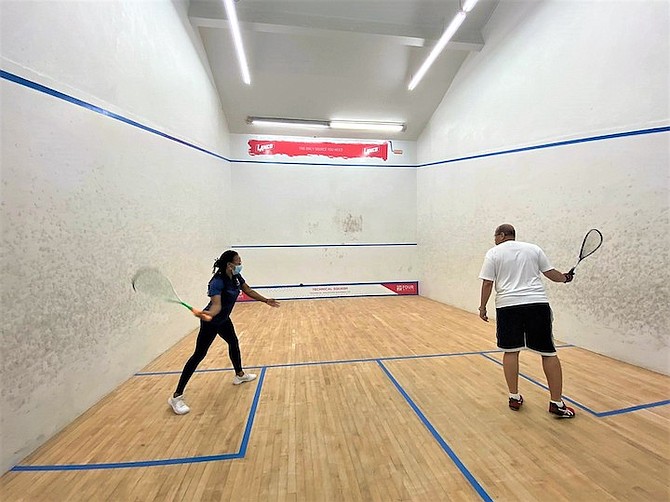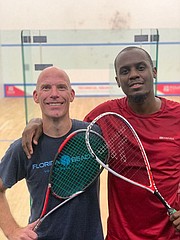 THIRTY local squash players are set to compete in the inaugural Four Walls Squash Open Championship tournament, starting Wednesday at Four Walls Squash and Social Club.
Matches will be held daily, starting on Wednesday at 6pm at the Village Road facility, which has three regulation size squash courts.
The public is welcome to watch matches from the indoor stadium on the Keith Parker Championship Court, or inside the member's bar and lounge, which has glass window viewing galleries.
The finals will be held on Sunday afternoon, June 26, followed by an awards and after-party.
"Most of our members play the game to de-stress and exercise, but they are competitive people at heart. Whenever we have tournaments, it's an opportunity to let that competitive spirit out, while winning prizes and having a lot of fun," said tournament director Michael Fields, who thanked platinum sponsors Rubins, John Bull and Technical Adjusters Bahamas Limited.
"We had a very successful beginner's tournament last year, and now we are hosting our first open championship, which will feature the top local players, in addition to beginner and intermediate levels. In the future, we expect to attract amateur players from the region to participate in the open championship," said Mr Fields.
Gold and silver tournament sponsors include Fortress Insurance, TCBY, Pump It All and International Private Banking Systems.
"For friends of squash it will be an exciting week, so we invite the community to come out. For curious members of the public, who want a taste of what we have to offer, this week is a great time to take in some competitive play and discover the sport.
"Every night, the kitchen will be open and guests can meet new people and socialise in our member's bar and lounge," he said.
Under new ownership and management, Four Walls renovated and reopened the Village Road Squash Club during the pandemic, bringing fresh energy to a niche sport that is not widely known.
Played indoors on a court with four walls, squash is known as the "chess of racket sports", given the importance of strategy and mental fitness in addition to flexibility, strength and endurance. Unlike tennis where players rally across a net, squash players hit the ball off the walls as they rally to keep the ball away from their opponent.
"Local interest in squash continues to soar, and we invite the public to take advantage of our affordable membership, learn-to-play programme for adults, and our summer camp for kids.
"Guests can learn more and sign up for all of our sessions online at www. fourwallsbahamas.com," said Mr Fields.