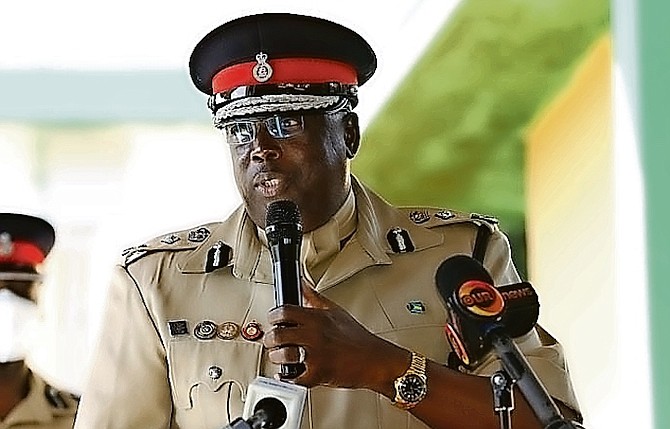 By EARYEL BOWLEG
Tribune Staff Reporter
ebowleg@tribunemedia.net
POLICE Commissioner Paul Rolle said yesterday it appears that getting bail for murder "is almost certain death" adding that there are people in the country who are willing to use lethal force to settle their disputes.
He said the mindset of the Bahamian people has to change.
His comments come after a triple shooting incident occurred in Millar's Heights off Carmichael Road on Saturday. Police said two men and a woman had to be taken to hospital after being shot by a lone gunman. However, one of the men later died of his injuries.
The murdered victim was Franklyn Glinton, who was charged with the 2020 killing of 17-year-old Lavard McKenzie. Glinton and his co-accused were granted bail months after their arraignments.
When asked about how often people on bail are being killed, Commissioner Rolle pointed the media to crime statistics and explained to reporters that this is not something that just started to happen. He added it has been going on for "a while".
"I don't have any control over the decisions of the courts," the police chief said. "I stay in my lane, but we know for a fact that persons charged with serious offences - particularly murder and get bail - we've seen too much within a matter of weeks that they're being shot and killed … I think somebody said some time ago that getting bail for murder is almost certain death and I would hope that all of us, those responsible will take those things (onboard). But you know people are entitled to apply for bail.
 "The part of the problem is people get bail and they go right back into these same communities where the reality is we have persons, too many, in this country that are willing to use lethal force to settle their disputes and that mindset of the Bahamian people has to change."
 "Let me put it like this — judge me on my responsibility. I'm required to keep The Bahamas safe to prevent crime and where crime is not prevented, is committed, to investigate and to bring persons to justice. Ask whether I am doing that and the police are doing that. I say yes.
 "I cannot and will not speak for the Department of Public Prosecutions or the courts — that's not my lane. You could go and speak to the director of public prosecutions; find out from his views and the chief justice, but as far I'm concerned the police officers are doing an excellent job in meeting our mandate and we will continue to do that. Once the matter is placed before the courts that's out of my hands. I move on to the next matter."
 Commissioner Rolle also said that on Wednesday, his policing plan is going to be presented in Parliament.