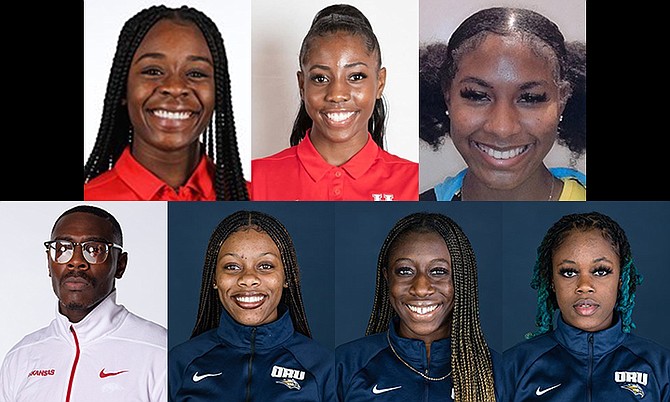 By BRENT STUBBS
Senior Sports Reporter
bstubbs@tribunemedia.net
PRO athlete LaQuan Nairn returned to his alma mater, while hurdler Indea Cartwright led a Bahamian connection at Oral Roberts as they both posted third-place finishes at the Arkansas Twilight in Fayetteville, Arkansas, over the weekend.
LaQuan, competing again at the John McDonnell Field University of Arkansas after he ended his tenure for the Razorbacks in 2020, ended up third in the men's long jump with a leap of 25-feet, 2 1/./2- inches or 7.68 metres.
American Jarrion Lawson won the event with 26-6 ¾ (8.02m), while another American Will Williams was third with 25-9 ½ (7.86m).
Cartwright, now in her senior year for the Golden Eagles at Oral Roberts University, came through with a third place finish in the women's 400 metre hurdles in a time of one minute and 2.22 seconds.
Britton Wilson, a sophomore from Arkansas, posted a meet record of 55.41 for the win.
Gabrielle Gibson, coming off her second Athlete of the Week honours last week, finished fourth in the women's 100m hurdles in 13.83.
Cindy Sember of Great Britain took the title in a meet record of 12.70.
Senior Chanice Forbes placed sixth in the women's 400m in 58.25.
Britton Wilson, a sophomore at Arkansas, clocked a meet record of 50.97 for the win. Lakelle Kinteh, a junior, was 11th in the women's 100m in 12.39 to miss making it to the final that saw American Marybeth Sant-Price win in a meet record of 11.26.
Two male competitors, Bradley Dormeus and Keithwood Stubbs, are also on Oral Roberts University's team that is coached by Joe Dial, but they didn't compete over the weekend.
Dial, by the way, will be stepping down at the end of the season after serving for nearly 30 years as the head coach.
Rutherford and
Bethel at Tom
Tellez Invitational
Camille Rutherford, competing for the University of Houston, got a third place finish in the women's 100m 11.38, while Brianne Bethel, a former teammate, was fourth in 11.46 as they went head-to-head at the Tom Tellez Invitational at the University of Houston over the weekend.
Tristan Evelyn, competing for API Athletics, won the race in 11.24 with Candyce Mcgrone of Aw1-Elite second in 11.25.
Bethel, the Grand Bahamian native, came back in the 200m and got third in 23.09. Evelyn got another win in 22.89 and Mcgrone was second in 22.98.
Meanwhile, Rutherford's cousin, Alexis Tilford- Rutherford, also picked up a third place finish in the women's long jump with her leap of 19-4 (5.89m).
Samiya Samuels, competing unattached, won with 21-0 (6.40m). Jayla Fields of Houston was second with 19-5 ¼ (5.92m).