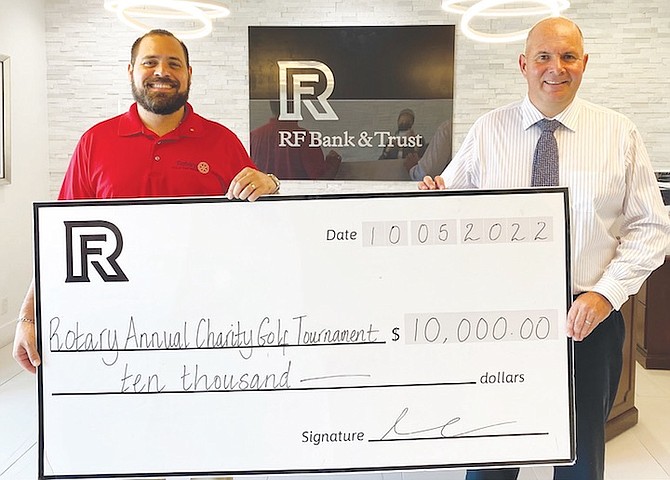 LOCAL golf enthusiasts are gearing up for the 35th Annual Charity GolfTournament hosted by the Rotary Club of East Nassau & The Scout Association of The Bahamas.
RF Bank & Trust (Bahamas) Ltd has signed on as the title sponsor for the tournament which will take place on May 16 at the One & Only Ocean Club Golf Course.
The tourney has been one of the club's primary fundraising activities for the past 35 years, collectively raising over $3.5 million for numerous charities throughout The Bahamas.
One hundred percent of the net proceeds raised will be donated to Rotary Club of East Nassau's RF Bank & Trust (Bahamas) Limited RF House, East Hill Street, PO Box N4853, Nassau, The Bahamas sponsored community service organisations and The Scout Association of The Bahamas. Recent recipients have included Fox Hill Run Feeding Programme, Project Read and the Bahamas National Trust.
"RF is proud to partner with Rotary on this initiative which raises funding for multiple charitable causes around the country," mentioned David Van Onselen, RF vice president of financial advisory services. "This is particularly important after the events of the pandemic and the strain that many are still feeling."
RF is donating $10,000 to the initiative and looks forward to a day of lighthearted competition.
About RF
Since its inception in 1997, RF has been committed to helping our clients create and manage wealth. We are your regional private bank connecting clients in The Bahamas, Barbados and the Cayman Islands with the best in local and international investments.
Collectively, we have helped clients raise in excess of USD $2billion in capital and we have $2 billion plus assets under administration.
Offering a wide range of investment products and services, our financial solutions are designed to help individuals and corporate clients meet and achieve their investment goals.
These include mutual funds, investment management, investment banking, group and personal pension plans, personal retirement accounts, stock brokerage, trust and estate planning, educational investment accounts.
For more information, please visit http://www. rfgroup.com and follow us on Facebook @rfbanktrust